Japan for Sustainability (JFS) is in the process of revamping its information services to continue being relevant and useful for readers as we adapt to the changing times and information needs.
Since JFS was launched in 2002, we have published an article online every day, about 30 each month, covering stories from Japan about efforts and initiatives for a happy and sustainable future. At the time, only a fraction of Japan's environmental news was getting out to the rest of the world. JFS has continued all these years to showcase Japan's sustainability efforts, and we are proud to have been recognized and appreciated in Japan and overseas for our contributions.
Over the past decade, the evolution of information communication technologies has boosted the breadth and depth of information available. But this enormous amount of information also makes it difficult for people to connect the dots and grasp the big picture of what is going on.
For example, for years we have released our daily articles online and by e-mail, covering companies' CSR activities, people's climate actions, and the nation's policies. But we often receive queries from overseas media and embassies in Japan, asking for help to make sense of it all. They ask what is going on in Japan with regard to a certain theme or topic.
And so, considering the changes we have witnessed, we know there is a new need for our information to be packaged -- with analysis, discussion, and commentary based on knowledge of the diverse efforts in Japan to move toward a truly happy and sustainable future.
More specifically, we are in the process of revamping the way JFS provides information, as follows:
1) A shift from daily to weekly articles (arranged according to eight JFS themes)
With our website renewal in the fall of 2013, we presented the eight JFS themes listed below. We now sort and present information on Japanese trends in terms of these themes.

With our next phase of evolution, we will switch from daily to weekly articles, with commentary and discussion organized to cover the trends in these eight JFS themes. What we previously called the "JFS Weekly Digest" will become the "JFS Weekly," an e-mail and web post containing the full text of a weekly article and other updates.
JFS information services evolution!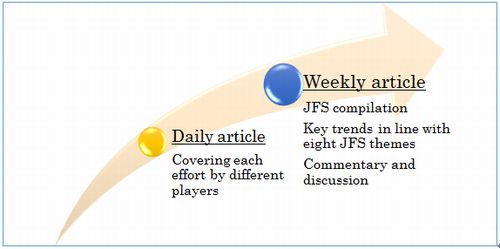 Weekly articles will start to appear in July 2014, and the complete transition is scheduled for August.
2) From "JFS Weekly Digest" to "JFS Weekly"
Separate from our daily articles, our Digest was an e-mail summary with short clips of our latest articles. The new Weekly will provide the entire text of our weekly articles and updates. We intend to start sending the new "JFS Weekly" to current subscribers. There is no need to re-subscribe.
JFS aims to continue improving how we serve readers by delivering relevant information that is high in clarity and broad in perspective.
We appreciate your continued interest and support!