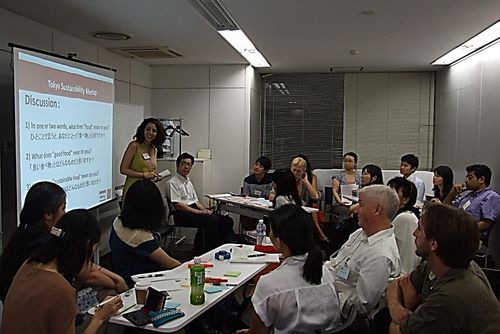 JFS launched a meetup group in August 2015 to offer a place for meeting with others off-line to learn and share the knowledge and information, with a lively discussion for anyone interested in the topic of sustainability. We named the group called Tokyo Sustainability Meetup and held a launching event on August 5, 2015, with 30 participants and a guest speaker, Paula Fernández-Wulff, from the University of Louvain, Belgium. The discussion topic was sustainable food systems. Here's our report!
Tokyo Sustainability Meetup #1
Discuss Food and Sustainability: Looking at Situations in Japan
Date and Time: 6:30pm - 8:30pm August 5, 2015
Venue: Seminar Room C, NOF Shinjuku Minami-guchi Building 4F
About the guest speaker: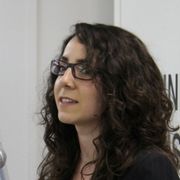 Paula Fernández-Wulff is a multi-disciplinary researcher with training in food and agriculture, biodiversity, and law. She is currently a PhD research fellow at the University of Louvain (UCL). Her current research focuses on socio-ecological transitions towards sustainable food systems and the question of agency. She holds an MSc in Environmental Governance from the United Nations University (Tokyo), where she specialized on food legal frameworks and their impact on agrobiodiversity in Mexico and Ecuador. She trained as a lawyer in France and Spain, specializing in European and International law at Complutense University and Paris 1 Panthéon-Sorbonne
Paula's Presentation
Towards a Sustainable Food System:
But Whose Idea of "Sustainable" and of "Food"?



Our food system is more globalized than ever: exotic products from distant countries, available all-year round, now populate the shelves of our supermarkets and convenience stores. Yet a parallel phenomenon is also taking place at the local level - citizens organized in collective and collaborative endeavors are innovating in ways that aim at relocalizing the food chain in a sustainable manner. These citizens are agents of change, empowered to collectively bring about the necessary consequences that will mend the food system from the bottom-up. However, we know very little about the organizational mechanisms that favor (directly or indirectly) the active involvement of people in the transition towards a more sustainable food system. This seminar presented some preliminary results of the Japanese chapter of an ongoing international research project on the question of empowerment and agency in the food system.
Participants were JFS subscribers, businessmen working in food related industry, university students and young professionals who want to improve their English through discussion, and businessmen recently assigned to work in Tokyo. After Paula's presentation, people sat in four groups and had small group discussions, followed by Q&A.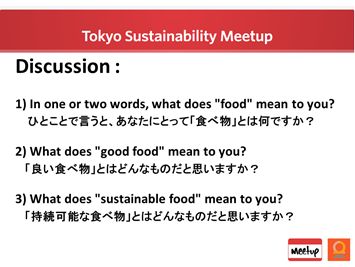 Participants shared their responses to the presentation, plus opinions, and experience from their own work. For example, someone raised the issue that a large portion of imported food is being wasted for reasons of chemicals, size and quality standards, etc., though much of it is still edible.
The discussions were very enthusiastic and everyone kept going non-stop with hardly a pause.
JFS will keep holding meetups in the future to provide more chances for direct discussion. We would like to connect people who share similar interests in sustainability issues. Watch for more! And please let us know if you have ideas for the next meetup!

Want to become a member? Please register from the weblink of Tokyo Sustainability Meetup, and you will receive invitations to the upcoming meetups.