"Sustainability in Asia"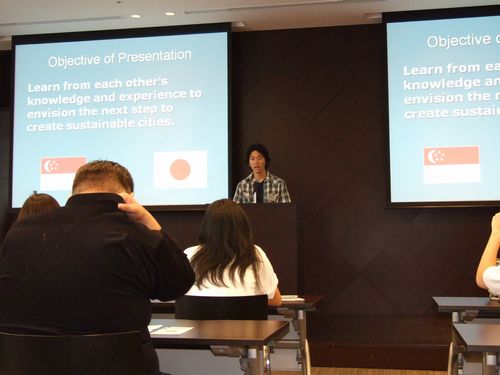 Japan for Sustainability (JFS) jointly held the Sustainability College Open Seminar titled "Sustainability in Asia" with National University of Singapore (NUS), as an open seminar of JFS-Daiwa Sustainability College. The purpose of the seminar is to empower the youth who can contribute to addressing sustainability issues both domestically and internationally. The participants discussed what sustainability means to Asia, especially in terms of "city", and what they can learn and contribute to each other.
Time: July 19 (Sat), 2008
Place:Sky Hall, Grand North Tower, Daiwa Securities Group Head Office
Program: Opening Remarks: 13:00-13:15
Presentation: 13:15-14:35
Group Discussion: 14:35-16:00
Summary of Group Discussion: 16:00-16:30
Closing Ceremony: 16:30-17:00
Co-organized by: National University of Singapore Daiwa Securities Group Inc., Japan for Sustainability
While 26 students of NUS were staying in Japan, JFS organized a seminar with the support of JFS-Daiwa Sustainability College. Twenty-four Japanese students from different universities and colleges, most of them belong to the JFS-Youth team, joined the seminar. During the presentation session, "Sustainability in Cities" was reported from each side. Singapore team presented "Sustainable Transportation" as part of their study theme. Japan team reported under the three topics - "Population," "Waste" and "Transportation." Each team prepared for the presentation through discussions and e-mail based communication. Japanese members also made English presentations after participating English presentation seminars held by JFS.
1st Part - Presentation


JFS
- Population: "Declining Birthrate and Increasing Aging Population; Foreign Residents in Japan; Immigration"
- Waste: "What We can Learn from History - Recycling City "Edo"
- Transportation: "How Much EST in Japan Makes Impacts on the Environment"


NUS
- Sustainable Transportation in Singapore


2nd Part - Discussion

After sharing actual state of "transportation" in both countries by using worksheet, they discussed what "Sustainable Transportation" in Asia will be. Each group discussed the comparison of public transportation, new challenges to improve sustainability and so on. Finally, leaders of the groups made a summary based on what they had discussed.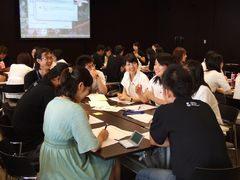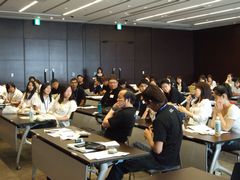 [Feedback]

How was this seminar beneficial?
It made me realize how little I know about this subject.
I met people from Singapore for the first time. Moreover, I could chat and exchange ideas with them, and make Singaporean friends.
There was a discussion time to express opinions about the presentations of the Japanese cities and the transportation system in Singapore that we had listened to before.
There was a chance to listen to first-hand opinions from Singaporean students, and to find out about the current situation in their country.
I realized how aware Singaporean students were of situations surrounding them.
It helped me find out what I should do to improve myself .
I was able to find out a little more about Singapore, which I hardly knew about before.
It gave me opportunities to learn not only about Singaporean policy toward transportation, but also about the situation of my country, Japan.
It was a good opportunity to get to know many people.
How can we, the students of two countries, cooperate toward a sustainable society?
We can discuss effective actions and policies in order to make use of these in cities which have many similarities.
We can carry out new projects based on our common interest.
We can share ideas and work hard together in mutual awareness.
We can invite students from other countries and set up sessions to think together about common issues we have - like at this open discussion.
We can discuss problems related to the two countries and also to all of Asia, and take action together to come to a solution.
We can share visions with people overseas, and we can learn from their experiences and help them by telling them ours.
We can show that we, the young people, can take action toward a sustainable society.
What kind of action do you want to take?
I want to think about what Japan can do and what problems Japan has.
I want to research environmental policies in Asia.
I want to suggest the policies and tips derived from Singapore which can be applied to Tokyo to local governments .
I want to think about how we can work with students overseas.
I have decided to study English more so that I can participate in discussions in English.
I have decided to start thinking.
I want to establish my own criteria to judge what sustainability is.
I want to improve my communication skills so that I can not only tell
what I want to say, but also make myself understood to others.
I want to introduce good practices used in Singapore to Japanese people.
I want to connect the network of Japanese students to the world.
General impression, comments
I am glad to know that the idea of the sustainability is popular and considered important.
It was a very important opportunity to discuss sustainability among
Asian students and it was good spending time with them.
I enjoyed this session very much.
I want to know more about the efforts made by people around the world.
It was interesting and I want to participate in this kind of session again.
I have learned new things about Singapore.
Although there are differences between Singapore and Japan, I found there are not so many differences in the viewpoints and the interests of Singaporean and Japanese students.
I learned so many things during this session.
I recognized that JFS plays an important role. I think that it is necessary to increase opportunities like this session and to increase the number of the students participating in it.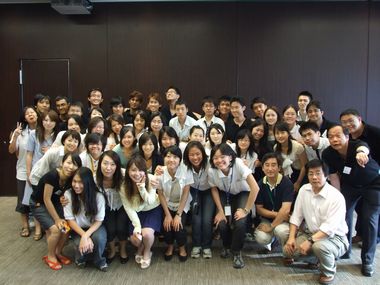 Fieldwork in Tokyo
Time: July 20 (Sun), 2008