Japan-U.S. Student Environmental Forum was held in June 2004. The event was jointly held by the Asia Scholars Program of the University of Kansas (KU) and the Japan for Sustainability. Fourteen Japanese college students from different universities in Japan, and nine students of KU participated in the forum. The Japanese students from different majors with interests related to environmental activities, gathered together. The students of KU visited Japan as part of "Japan Program" of the Asia Scholars Program, which provided them with leaning opportunities of Japanese culture, history, and lifestyle. In the forum, they discussed their differences and similarities, as well as common visions of a sustainable society.
Program: Japan-U.S. Student Environmental Forum
Time: June 8 (Tue), 2004
Place: Conference Room of Senden-Kaigi
Opening Remarks
Dr. William Tsutsui and Dr. Patricia Graham, KU
"I am proud of holding the forum which will give an opportunity to think of sustainability for the students of KU and Japan."
Junko Edahiro, Co-Chief Executive of JFS
"One of the missions of JFS is making a vision of sustainable Japan. In this forum, I hope American and Japanese students can discuss not only vision for each country but also for the world together."
Presentation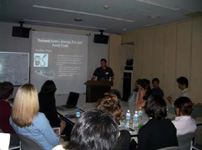 Local Level: The Efforts in Lawrence, Kansas (Smart Growth, Green Wal-Mart), the Difference of Big City and Small City
School Level: Questionnaire (Attitude Survey, Behavior Survey), Green Actions on Campus (AT House, etc)
National Level: Energy, Global Warming, Kyoto Protocol
JFS
Japanese Geography, History, and Culture
Philosophy of Japanese, "Mottainai"
Local Level: Local Efforts Taking Advantage of Japanese Climate and Culture
School Level: College Green Activities, International Youth NGOs
National Level: Partnership among Governments, Companies, and Citizens
Group Discussion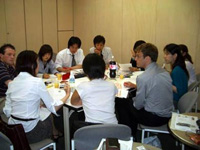 Local Level: "Efforts of Local Communities for Sustainable Society"
School Level: "Effort of Schools for Sustainable Society"
National Level: "Vision of Sustainable Society in 50 Years"
Summary of Group Discussion
Closing
Overall Evaluation by Dr. Patricia Graham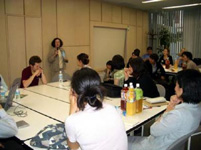 National Level
Relationship between Human and Nature--Different Mentalities; North-South Problems and the Third World Issues
Local Level
Activation of Waning Shopping Area; Importance of Communication
School Level
Difference between Protest and Confrontation, Individual vs Group-oriented
Related Article