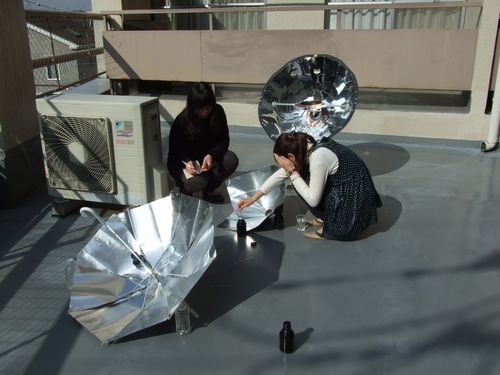 The JFS-Youth Team, which aims at increasing environmental activities conducted by Japanese students, launched the Green Explorer Project in October 2009. This three-month project is a simultaneous environmental project for students all over the world, in which they sent messages about efforts to build a sustainable society. By spreading information about youth activities on the Web, the project aimed to improve global cooperation. The unique characteristic of this project is that anyone, anywhere can easily take action by participating in local activities.
JFS-Youth Interns used a solar cooker in the Kawasaki JFS office in November. They succeeded in cooking six sunny-side up eggs in about 2 hours, or about 20 minutes each. Moreover, the JFS-Youth team held a candle cafe with Japanese university students in December in Tokyo. For this, they used waste cooking oil to make the candles, and they discussed the environmental activities conducted by Japanese students.
Those who took part in the GE project fully realized the difficulties in communication caused by language barriers, and how hard it is to attract other people to get involved in environmental activities. The JFS-Youth Team is also planning to hold a seminar for students aiming to improve communication skills.
Posted: 2010/08/31 06:00:15 AM