To celebrate the 100th environmental cartoon by cartoonist Hiroshi Takatsuki, (pen name High Moon) posted on the our website, JFS held a popularity poll during the month of September 2011.
A website page was set up for readers to vote for their favorite five cartoons during the 30 days from September 1 to 30, 2011. We received 624 votes from JFS readers around the world.
Here are the top five cartoons


How long can this situation be sustained?  30 votes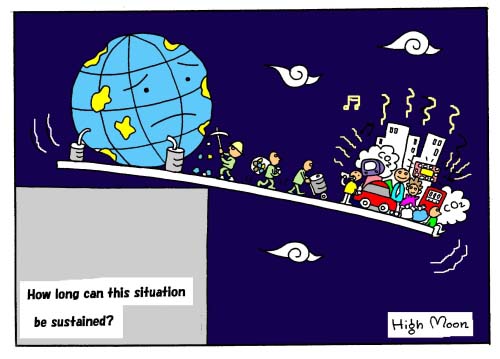 What are the things that we really need?   22 votes



The Ranking Order of the 3Rs  18 votes



Environment and Safety  18 votes


Thank you very much for participating, we hope you all enjoyed the cartoons and the voting!
We received numerous messages from as many as 30 countries around the world.

Here are some of them:
"A lot of these cartoons provide food for thought & raise awareness about our impacts" (South Africa)
"A great way to communicate a profound message. Looking forward to the next one!" (Liechtenstein)
To wind up the celebration, here are some words of thanks to you all from Prof. Hiroshi Takatsuki/ High Moon.

"I would like to take this opportunity to express my gratitude to you all for voting in this popularity poll and sending your messages., I'm delighted that people in various countries are taking an interest in my environmental cartoons. I can see from the results that voters are interested in the various topics I address in my cartoons.
In my capacity as the cartoonist High Moon, I will keep drawing more cartoons and hope to deal with even broader topics.
Thank you again, and I hope my cartoons will help somehow to encourage you act so as to make our society more sustainable. High Moon"

The following are the top seven to ten
7th place Time for The Simple Life 2.0   17 votes
8th place Hey we believe in recycling too!    16 votes
8th place Let's make fuller use of rainwater!  16 votes
10th place Is this an eco-town?  14 votes

Here are the titles of the top 11 to 20 cartoons:
11th place: Let me help!  13 votes
11th place: Nowadays nobody works without these...  13 votes
11th place: Limited Focus  13 votes
11th place: Great! Wonderful Recycling Spirit!  13 votes
15th place: Dad! Mom! Please Save Some for Us...  12 votes
15th place: Recycling   12 votes
17th place: That must be their staple diet...  11 votes
17th place: Sewage pipes directly connect the home and the environment  11 votes
19th place: You there! Try to think of something other than business!  10 votes
195th place: People Who Don't See the Bigger Picture  10 votes
We thank you all again for joining us.
Did you find the cartoons you voted for in the top-ranking list?
Please do keep your eye on JFS's Manga Page!

* Copyright Contents
All the contents in this page has copyright.
For permission of any secondary use, please check our copyright policy and contact us at info[at]japanfs.org