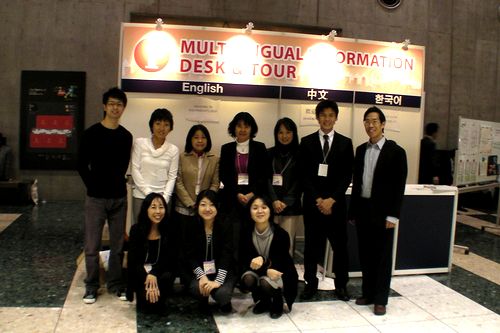 (English Guided Tour Team)
Participants:70 guests in total for two days
English Support Team (English Guided Tour and Desk Support)

Project Manager: Shiro Hosojima
Team Leader: Hiroko Kawata
Guides: Frank Ling, Chizu Tanifuji, Kouta Tsukashima, Mutsumi Komune, Miyuki Miyazaki
Support Staff: Yukari Takahashi, Ayako Nakagawa, Yukio Kishiyama, Kazuko Futakuchi, Shoko Sugasawa, Megumi Takashima, Reio Tada
Information Desk: Noriko Sakamoto, Chizuko Sato, Miki Saito, Naoko Okabe

About the 12th Eco-Products 2010 Exhibition
The exhibition was held from December 9th to 11th at Tokyo Big Sight (Tokyo International Exhibition Center). Its aim is to further raise awareness of the environment, encourage environmental efforts around the world, and help create a sustainable society. The exhibition was three-day event, one of the largest environmental exhibitions in Japan. In three days, more than 745 companies/organizations exhibited and 183,140, the largest ever visitors, attended the exhibition.
The theme of 2010 exhibition: "Green x Clean Revolution! Expand the power to connect lives to the world".
http://eco-pro.com/eco2010/english/index.html

English Guided Tour Concept
On December 9th and 10th, JFS and EcoNetworks held an English Guided Tour for non-Japanese speaking guests. There were two types of tour for international guests.

General Tour: About 90-minute exhibition tour providing general information about the exhibition. The guide showed the visitors around the venue, stopping at several booths which the guide thought would be interesting to international visitors. The Group Tour was held from 13:00 to 14:30 on each day.
Theme-based Tour: Approximately 90-minute tour held after the General Tour from 15:00 to 16:30. There were two tours on each day: "Renewable Energy Tour" and "Biodiversity Tour."

General Tour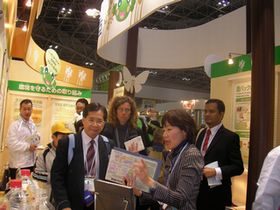 Three groups of international visitors toured the huge venue with a bilingual guide each day. They stopped at several booths that showcased EV's, solar panels, bio-toilet using sawdust, wall surface greening system using moss, small windmill and hydro power, rare metal recycling, bio-plastic, bamboo-based fabrics, mannequins made from material containing discarded shells, and more. The three guides made researches beforehand into what exhibitors are going to showcase and picked up several booths that features latest development and/or something that might be interesting to overseas visitors, covering large and small-to-midsize firms/organizations.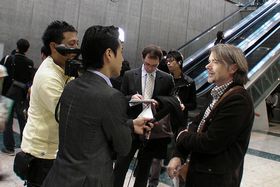 (video interview after the tour)
Here are some of the comments from the tour participants.
"Good tour with a good variety."
"Great to have a guided tour."
"It was an informative tour with a friendly guide."
"Very informative tour with a friendly guide."


Renewable Energy Tour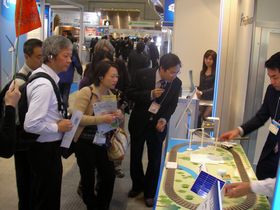 The tour focused on three aspects of renewable energies: (1) A pure renewable company, (2) Integration of renewable energies with transportation and (3) Integration of renewable energies with buildings. The guide also showed the visitors booths featuring the newest developments in renewable energy technologies. Participants were interested in seeing how Japan's industries were doing in developing solar, bio-fuels and other renewable sources of energy and how renewable technologies are being developed in Japan. Some of them were particularly interested in electric vehicles.
Here are some of the comments. "It was an excellent tour with a very knowledgeable guide." "Thanks for the guide's translation." "It was a very clear explanation."

Biodiversity Tour
The tour stopped at booths showcasing natural forest conservation as a CSR activity, educational display of what biodiversity is, the ecosystem of rice paddy fields and their surrounding environment, and approaches to conserve biodiversity in building/housing projects. It also featured a municipality committed to the conservation of endangered Japanese crested ibis by conserving the surrounding ecosystem and ensuring economical benefits of the stakeholders at the same time, and a non-profit organization working to regenerate coral reefs, which were recently found to absorb CO2 and never release it even after they die.
Here are some of the comments by the participants. "This tour was fantastic with plenty of information and great choices." "The ideas for concerning wild animals were interesting." "The coral booth was interesting because our world needs perfect sea including coral."
  * * * * *
We organized the theme-based tours for the first time this year. We featured latest development in both renewable energy and biodiversity, which are among the hot topics in the environmental front.
For both the general tour and theme-based tour guides make researches beforehand and decide carefully where to stop in the tour. Next year, too, we will continue to share innovations and new developments with international visitors to move toward sustainable future together.