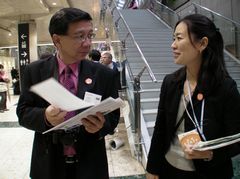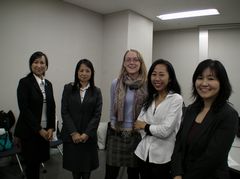 (Left: Tour participant and guide Miho Right: Tour Guides)
Participants:48 guests in total for two days
English Support Team (English Guided Tour and Desk Support)

Project Manager: Shiro Hosojima
Team Leader: Shoko Sugasawa
Guides: Kazumi Appleyard, Hiroko Kawata, Frank Ling, Chizu Tanifuji, Kouta Tsukashima, Miho Tsunoda,
Support Staff: Julie Emmings, Keiko Hata, Kazuko Futakuchi, Yoji Nakamura, Miki Nemoto, Megumi Takashima, Akiko Tsunemitsu, Shinji Yoda
Information Desk: Noriko Sakamoto

About the 11th Eco-Products 2009 Exhibition
The exhibition was held from December 10th to 12th at Tokyo Big Sight (Tokyo International Exhibition Center). Its aim is to accelerate the expansion of green markets by exhibiting environmentally friendly products and services. The exhibition was three-day event, one of the largest environmental exhibitions in Japan. In three days, more than 721 companies/organizations exhibited and 182,510 attended the exhibition.
The theme of 2009 exhibition: "More Questions about Japanese Power -the First Year of Social Power".
http://eco-pro.com/eco2009/english/index3.html

English Guided Tour Concept
On December 11th and 12th, JFS and EcoNetworks held an English Guided Tour for international guests. There were 2 types of tour for international guests.

Group Tour: About one-hour exhibition tour providing general information about the exhibition. The Group Tour was held from 13:30 to 14:30pm in two days.
Individual Tour: Approximately one-hour "in-depth" tour held after the Group Tour from 14:30 to 17:00pm.

Tour Report: Hiroko Kawata's Tour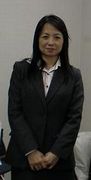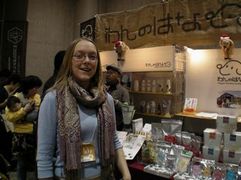 (Left: Hiroko Kawata Right: Julie Emmings)

Written by Julie Emmings (Support Staff)
Virtual Video Tour
http://www.econetworks.jp/eco-product-support.en/about_ecoproducts/broadcast_from_ecoproducts_exh.php
Our first group tour of Eco-Products 2009 saw us joined by a Professor in Innovation Strategies, journalists from the Japan Times, professional environmental 'bloggers' and a young British entrepreneur.
Our tour started off in the household products section where we introduced our participants to AMADAM Inc, a small business creating fabrics and household goods composed entirely of recycled bamboo. Samples of these beautiful fabrics were passed round the tour group to help them appreciate their non-static, deodorizing and UV blocking properties.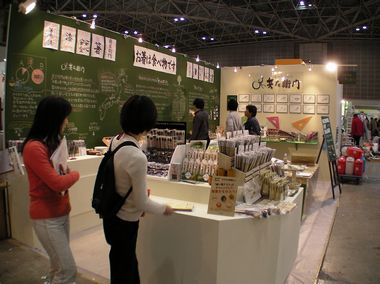 Next we moved on to a quirky organization called Hyozaemon, who recycle the broken baseball bats of professional and college teams, turning these wooden splinters into chopsticks. The company hand paints the chopsticks with baseball team logos and sells them, encouraging customers to carry their own chopsticks instead of contributing to the 100 million pairs of disposable chopsticks discarded in Japan every year.
Moving through the food products area, we stopped off with our young entrepreneur to admire the use of tea leaf residues to make fragrant plastic bags and stationary.
Heading off into the bioplastics area, we introduced a stall showcasing the collaborative efforts of Braskem and Toyota Tsusho. These companies have created the world's first 100% green polyethelene made from sustainable, renewable Brazilian sugarcane ethanol.
After the cutting edge photovoltaic technologies of Kyocera Corporation, we guided the group to A One Meditec Corp Ltd, a company displaying new multiple LED tubes that can directly replace old fluorescent tubes using the same fittings; dramatic reduction in utilities costs and carbon emissions can be expected. Our esteemed academic participant was most interested in this product, promising to return later on an individual tour.
We next introduced our group to the rooftop greenery of MossWorld Inc. This low maintenance carbon sink should be colonizing and greening the rooftops of buildings in major cities very soon.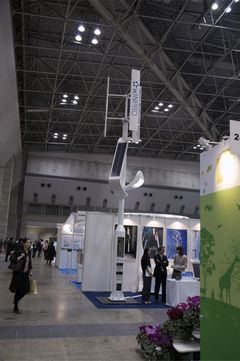 After our stop at JFS's booth, our reporters showed great interested in the new integrated wind and solar energy generation system from Winpro; a compact and multi-directional wind turbine designed for use on highways with integrated streetlight function.
One of our final stops was at Super Faiths Inc the future large scale paper diaper recycling system that creates biomass pellets from used diapers. The aging population of Japan will make technologies such as these vital in the future and this should decrease reliance on landfill.
This year was my first time at Eco-Products and I found it to be an enthralling exhibition full of concepts and innovations to stimulate the interests of all advocates of environmental sustainability. The huge efforts of Japanese companies in areas ranging from conservation to carbon reduction strategies has shown me the scale of commitment this nation has to preserving this world for future generations.

My wholehearted recommendation to any English speaker interested in environmental sustainability is to sign up to the English guided tour for Eco-Products 2010, as no doubt next years' event will herald the arrival of even more exciting concepts which need sharing with all nations as we move towards a sustainable future together.