Eco-Products 2008 English Guided Tour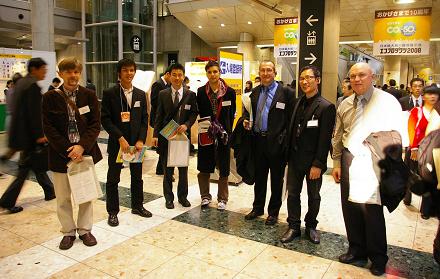 (Mr.Tsukashima's Tour Group)
Participants:51 guests in total for two days

English Support Team (English Guided Tour and Desk Support)


Project Manager: Shiro Hosojima
English Support Team Leader: Shoko Sugasawa
Guides: Mizue Kasai, Hiroko Kawata, Frank Ling, Kouta Tsukashima,
Support Staff: Sakura Hanamura, Noriko Fukiwake, Kazuko Futakuchi, Kayoko Kojima, Yui Kato, Yoji Nakamura, Wirunrach Podsatiankul, Megumi Takashima
Information Desk: Noriko Sakamoto



About The 10th Eco-Products 2008 Exhibition
The exhibition was held from December 11th to 13th at Tokyo Big Sight (Tokyo International Exhibition Center) in Tokyo. Its aim is to accelerate the expansion of green markets by exhibiting environmentally friendly products and services. The exhibition was three-day event, one of largest environmental exhibition in Japan. In three days, there were more than 758 companies/organizations exhibited and 173,917 attended this year.
This year, theme was "We Can Do it! Eco-Lifestyle with a 50% CO2." Attendees were able to discover and learn from the exhibitors about various ways to cut CO? emissions from their lifestyles and daily life by 50%.
For more information please visit URL below.
http://www.eco-pro.info/eco2008/english/index.html
English Guide Tour Concept
On December 12th and 13th, JFS and EcoNetworks Co.(ENW) held an English Guided Tour for international guests. There were 2 types of tour for international guests.

Group Tour: For those who needed general introduction of the exhibition, we prepared a group tour to walk around the exhibition for one hour and point out some of interesting features. The Group Tour was held from 13:30 to 14:30pm in two days and we had approximately 36 people participated.
Individual Tour: This tour is prepared for visitors who would like to look through specific booths and attain information in depth. Participant can customize the tour within one hour and has support of one translator. Individual Tour was held between 14:30 to 16:00, and 15 people participated in two days.
Tour Report from: Frank Ling (Guide Staff)

Group Tour1
In the first tour, we were joined by two participants from the US embassy, two students from Switzerland and an investor from Singapore. Our tour began with an introduction through at the 10th anniversary display on Japan's vision for Low Carbon Society.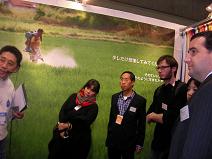 The first booth started at METI where we discussed Japan's efforts to invest in energy efficiency and energy production through the development of industrial technologies. The next stop was NEDO, highlighting uniquely designed wind turbine "Air Dolphin" from Zepher. Next, the group visited the Ricoh booth where we saw their paper replacement. The embassy official was quite impressed with the demonstration of the disappearing image from the heat treated plastic film.
After passing by the Casio boothsakam (cardboard based booth), we went for a tour through the Inkmax.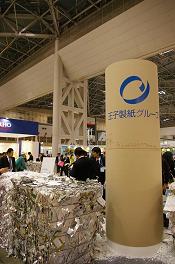 The next section Oji highlighted new technologies in paper recycling. There were samples showing the difference between 100% recycling paper and brand new paper.
The next stop was the Kuraray and their water purification technology. In the near future, water issues will be as important as energy issues and there will be a lot of demand for water purification and remediation technologies.
We briefly passed by the Eco-lab plaza to show how Japanese companies to improved in efficiency in their home electronics and appliances. The end uses comprise up to 30-40% of all energy use in homes and could be reduced by up to 50% depending on the innovations being employed.
Next, we visited the JFS booth on the other side of the hall.

Group Tour 2
This tour started at the 10th anniversary booth but unlike yesterday's tour, we went around the opposite direction.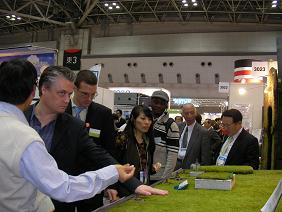 First, we went to JFS and then to SMBC.
Then, we looked at the Sekisui house and then because of interest in architecture, we stopped by the demonstration on the moss for rooftops as a cooling mechanism for buildings.
Next, we headed to the opposite side of the hall where we checked out the Eco-Labs section first. Then, we went by the bioplastics booth, which described plastics being made from rice.
We went by the paper recycling demo and then briefly stopped by InkMax. Finally, we saw the Ricoh booth and then NEDO's air dolphin wind turbine.

Individual Tour 1
Participant was interested in catalytic material produced by Mitsubishi materials. He was interested in building materials that could break down NOx pollutants and had a potential licensee in China. Afterwards, we discussed investment opportunities in cleantech. We concluded that there is great potential for Japan to license its technologies.

Individual Tour 2
From tour 2, participant was journalist from publishing company. We examined some from the highlights from the group tours including JFS, building materials, InkMax, and Ricoh as well as Fuji Xerox.
ENW English Seminar/Networking Event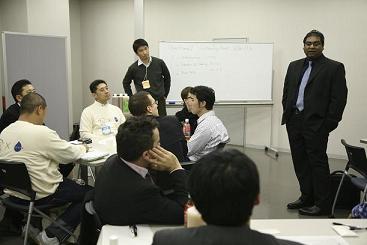 Date: December 12th 2008 16:00-17:30pm
Location: Networking Room
Participants: 6 Exhibitors, 7 International Guests
Purpose: Participants will have a chance to sit down and engage with exhibitors
Facilitator: Kazu Kobayashi
Support Staff: Kazuko Futakuchi, Shiro Hosojima, Hiroko Kawata, Frank Ling, Wirunrach Podsatiankul, Kouta Tsukashima
This event was designed to be an informative, reflective dialogue on the potential of eco-products and services both in Japan and participant's home country. Participant learned the latest trends in Japan, while exhibitors learned the trends and opportunities for their products in participant's home country.
Seminar was programmed in "world cafe" style session in order to maximize the quality of learning for everyone.
*For further information please contact info@econetworks.jp
For more reports of Eco-Products Exhibition
Eco-Navigator
http://www.econetworks.jp/econavigator/en/ (English)
http://www.econetworks.jp/econavigator/ch/ (Chinese)
http://www.econetworks.jp/econavigator/kr/ (Korean)
East Asia Environmental Information Express Messenger
http://www.eden-j.org/