Climate Change Action by Government, Industry, Academia, and Citizens before the G8 Hokkaido Toyako Summit
March 26, 2008
The JFS-Youth team went on a mini study excursion in Tokyo with students majoring in urban planning at the University of California, Los Angeles (UCLA) in the U.S.
We visited the Tokyo Metropolitan Assembly Building and the Tokyo Metropolitan Government (TMG) from 10:00am to noon on March 26, 2008.
Rooftop Garden Greenery of Assembly Building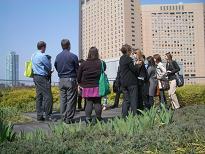 We visited the rooftop garden of the Tokyo Metropolitan Assembly Building to see an example of the measures against the heat island phenomenon.
A TMG official detailed the rooftop garden system. The JFS Youth members also told the UCLA students what they had learned about the garden before the excursion.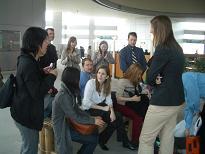 After visiting the rooftop garden, we developed our understanding of the urban planning of Tokyo by enjoying the view of Tokyo from the observation room of the TMG tower. Then we moved to the tearoom and talked about various topics such as ecological activities in Japan and the U.S., and also our campus lives.
Voice from Participant
I enjoyed the study excursion. It was so exciting and interesting talking with students from abroad.
In this excursion, I visited the rooftop of the Tokyo Metropolitan Assembly Building where we cannot go normally. Even though I live near Tokyo, it was also the first time for me to visit TMG. In addition, studying about the heat island phenomenon in Tokyo beforehand motivated me to learn more about the current situation of Tokyo.
The excursion turned out to be an inspiring event for me.