2004.12.9-11
Tour Guide: Kazunori Kobayashi
Staff: Olivia Dupuis, Ichie Tsunoda, Rich Oda, Akiko Asano
Translator: Katsuko Nishibe, Yoko Tange, Kazumi Kanechiku, Ayako Kimura
10:30AM Welcome
Welcome to Eco Products 2004 and JFS tour!
Here are some contexts to remember before we start today's tour...
Did you know?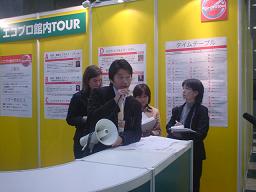 Energy:
In 2000, oil accounted for about
50%
of primary energy consumption in Japan, of which 86 % is imported from Middle East. In total, Japan imports about 80 % of its energy from overseas.
(Source: Ministry of Foreign Affairs)
GHG emissions:
In 2000, annual per capita CO2 emissions were 9.75 tons, a jump from 9.06 tons in 1990. To meet the reduction target set under the Kyoto Protocol, it is calculated that by 2012 each person is Japan must learn to cut his/her annual per capita emissions by
1.3 tons
.
(Number calculated from Ministry of the Environment)
Renewable Energy:
In Japan 2001, renewable energy accounted for
3.2 %
out of the total primary energy supply, including hydroelectric energy.
(Source: International Energy Agency)
Mobility:
In 2002, CO2 emissions from transportation increased by
22.8 %
compared with 1990 levels.
(Source: Ministry of the Environment
http://www.env.go.jp/doc/toukei/contents/index.html
)
Water Use:
In 2001, daily personal water consumption in Japan (daily per capita) was about
319
litres.
(Ministry of Land, Infrastructure, and Transport.
http://www.mlit.go.jp/tochimizushigen/mizsei/hakusyo/h16/index.html
)
10:40 The Tour Starts!
Booth 1: Sharp http://sharp-world.com/index.html
Company :
One of Japan's major home electronics appliance makers
Products Concepts :
Aiming for zero contribution to global warming on 2010 / Let's go with "Ecology Class"
Product :
Detergent-Free Dishwasher (Sales from Sept. 2002)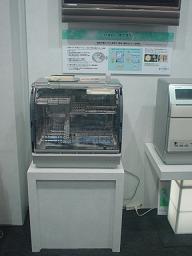 Countertop dishwasher, named the "Nabe-Pika Sara-Pika"
(stain-free pots and dishes), which requires no detergents. It also uses only 1/15 of the water used for washing by hand.
With an "ion exchange system" that makes it possible to produce hard and soft water from tap water using table salt, and an ultrasonic device that generates a superfine mist, the new dishwasher has powerful washing capability without detergents.
Hard water can remove protein-based stains such as eggs, which hot water and jet spray alone cannot remove.
With this new dishwasher, users are able to save approximately 666 yen (about US $ 5.41) a month by eliminating the need for special detergents. Salt for hard and soft water generation costs only about 126 yen (US $ 1.02) a month.
Product :
World's Most Efficient Photovoltaic Module (Sales from April 2003)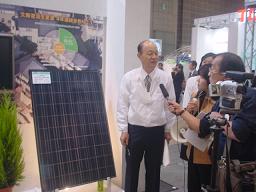 Single-crystal photovoltaic (PV) module with a conversion efficiency of 17.4 percent, the word's top conversion efficiency for a module designed for residential application
Innovations in electrode design and PN-junction technology that reduce leakage currents and generating current losses, along with other technology that minimizes module interconnect resistance losses
This achievement will enable installation of a 3kW PV generating system in a area of just 17.3 square meters, the smallest surface area requirement in the industry
Conventional modules require 23.1 square meters, which has meant that units could be installed on only 74 percent of Japanese homes. The new module reduces the space requirement by 25 percent, increasing to 93 percent the proportion of homes that could accept the module.
Booth 2. Toshiba http://www.toshiba.co.jp/index.htm
Company :
Japan's leading electronic maker
Product Concept :
"Factor T" = Value of products / environmental impacts
Products :
Small direct methanol fuel cell (DMFC) for portable PCs (commercialized in 2004)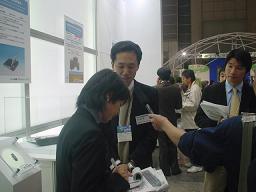 The DMFC supplies methanol directly to a fuel cell to generate electricity through a chemical reaction.
Succeeded in miniaturizing a fuel tank to less than one-tenth the size of a regular tank, using a dilution cycle technology that allows highly efficient electricity generation with a high-concentration methanol.
Effective use of resource and saving energy/material use.
Small DMFC for wearable appliances (will be commercialized in 2005)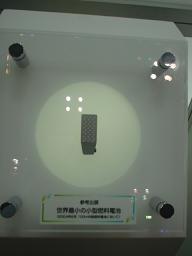 Designed for handheld electronic devices such as "wearable" audio players or wireless headsets.
The world's smallest power supply system using a passive direct methanol fuel cell (DMFC).
The thumb-sized fuel cell is 22 millimeters wide by 56 millimeters long and has an output of 100 milliwatts. One charge of the built-in 2-milliliter fuel tank is enough to power a small audio player for up to 20 hours.
By introducing technology for the catalyst in the electrodes that uses nano-sized particles at high-density, the company succeeded in optimizing the total design and minimizing the cell size.
Saving energy and resources.
Challenges ahead :
Adaptations for specific applications and improving reliability.
Product :
Paper-Reuse System at office with decolorable toner "e-blue" (sales since 2003).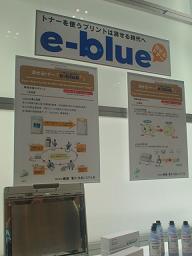 "Disappearing" printer ink that can be erased by thermal processing. Factor 9.43 (e-blue / conventional toner).
The decolorizing technology capitalizes on a reversal of the reaction that causes color formation in thermal paper printing. An exclusively developed decolorizer is added to the ink together with conventional components, dye and developer. In the decolorization process, the printing is rendered invisible through a chemical reaction that separates the dye from the developer through treatment with heat or solvents. Then, the decolorization is stabilized by bonding the developer with the decolorizer.
Reduced paper purchased and discarded by approx. 60% (at Toshiba) / Reduce CO2 emissions (Reusing 5 times leads to 50 % reduction) / Increased awareness among workers
Booth 3. JR East http://www.jreast.co.jp/e/index.html
Company :
The largest passenger railway company in the world. it alone provides nearly half of the huge volume of railway transportation in the Tokyo metropolitan area.
Context :
Railways can play an important role in sustainable societies. This is because they are efficient. For trains, CO2 emissions from the fuel and electricity consumed to transport one person one kilometer are approximately one-tenth the emissions of automobiles and one-fifth the emissions of buses.
16 million people -- which is on the scale of the population of megacities like Cairo, Mexico City and Shanghai --- are using JR East trains daily. 72 percent of total energy consumed at JR East is for electricity used to run the trains.
Product :
Energy efficient Advanced Commuter Train ("AC Train")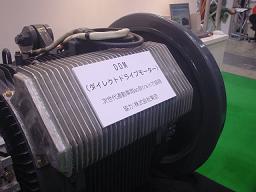 In order to reduce the power costs, a light weight car body and Direct Drive Motors (DDM) have been adopted, to improve energy efficiency.
Benefits of DDM include elimination of gear mechanisms which eliminates transmission loss and gear noise, and reduced speed of motor rotation, for less motor noise.
Product :
The World's First Hybrid Railcar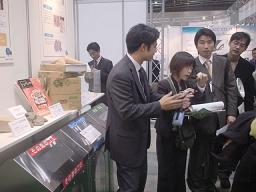 The world's first prototype of a hybrid diesel-electric rail car, called "NE Train (New Energy Train),"
The prototype is a single rail car with an onboard engine and employs a series-hybrid system with the future potential of being adapted to fuel-cell-driven rail cars.
The engine serves as the mechanical power source and is arranged in a series configuration with the electrical power source. The diesel engine drives the generator, and the generator supplies electricity to the electric motors that drive the wheels. In the future, this system can be adapted to a fuel cell system by simply replacing the engine and the generator with fuel cell stacks.
The hybrid system makes effective use of regenerative energy when braking, and provides energy savings of some 20% compared to current diesel railcars (Kiha 110 series). In addition, noise is reduced by stopping the engine at station platforms and other locations.
The power generating diesel engine employs the latest emission countermeasures, and together with the hybrid system effects JR East is aiming to halve the nitrogen oxide (NOx) and particulate matter (PM) levels in the exhaust gas.
Booth 4. Toyota http://www.toyota.co.jp
Company :
The world's leading car manufacturer
Concept :
Hybrid synergy drive
Product :
2nd generation PRIUS hybrid vehicle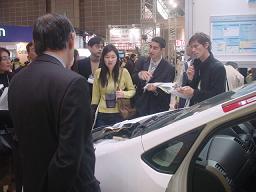 One of the most fuel-efficient production vehicles in the world, capable of achieving 35.5kilometers per liter.
PRIUS means "prior to" in Latin. The first-generation Prius was launched in 1997 as the world's first mass-produced hybrid passenger car. The combination of a gasoline engine with a separate motor achieved high-efficiency operation, while the recovery of kinetic energy and conversion to electricity for storage in a battery made possible fuel efficiency twice as high as that of conventional gasoline vehicles.
The major improvements made by THS II (Toyota Hybrid System II) were the adoption of a high-voltage power-control system for the motor drive voltage and enhancement of the system's potential by improving the performance of the engine, the motor, and the generator, and by increasing the regeneration capacity, etc.
In terms of acceleration, the new Prius realizes performance on par or exceeding that of the 2.0-liter Allion or 2.4-liter Camry.
Fuel efficiency has also been improved from 31.0km/liter to 35.5km/liter. Put simply, this was an improvement of approximately 15%. It achieves compatibility between fuel efficiency and driving performance.
Viewed in terms of overall efficiency (Well to Wheel), the new Prius scores 32% (compared to 28% for the first-generation Prius). This level is the highest among all commercially available vehicles, including FCHVs, and is a testament to the fact that the Prius leads the pack in the race to produce the ultimate eco car.
Challenges ahead :
application of hybrid systems to minivans, SUVs and other vehicle series as well
Booth 5. Think the Earth Project (NGO) http://www.thinktheearth.net/index.html
Organization :
Non-profit project launched in February 2001.
Concept :
"co-existence of ecology and the economy" The project is reconsidering the best form for economic activities, which have been burdening the earth's environment, and working on endeavors to make business, the engine of the economy itself, into a dynamic force for a better society.
Products :
Project 001 watch
Winner of GOOD DESIGN AWARD (New Territory Design Category) / JAPAN WATCH OF THE YEAR 2001 (Gold Prize / Casual Watch Division)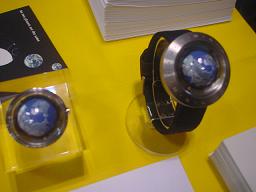 Think the Earth's first project, wn-1, is the world's first Earth-shaped watch that rotates on its own axis. Manufactured by TTE corporate partner Seiko Instruments Inc. wn-1 is a "watch" unlike anything produced to date-- a dome-shaped earth-dial revolves in the same direction (counterclockwise) at the same speed (one revolution every 24 hours) as the Earth. Sales began on March 1, 2001 via the Think the Earth project website. Total sales 10,000 pieces worldwide. (As of December 2004)
Project 007 Water Planet
SIGG AG is the brand leader for comprehensive, high-quality drinking bottles for leisure and sports use. The encounter with SIGG inspired us to launch Water Planet Campaign with "Your Life with Water" as a theme. Our life depends on water however we are rarely aware of the fact. We suggest an alternative lifestyle to carry drinking bottles and think more about our relationship with water through releasing related information on the website "cafe water planet (Currently Japanese site only)" and at various events.
Project 002 book
Winner of ADCNY 82nd Silver Medal, 2002 Tokyo ADC Award & I.D. Annual Design Review Best of Category for Graphic"One Hundred Years of Idiocy" is a collection of 100 documentary photographs from the 20th century, each a symbol of the stupidity humankind has exerted on the Earth, and each a confirmation of reality. The book also carries messages for the future contributed by world eminent writers and scholars. The sales started on the Earth Day, 22nd April, 2002 in Japan. The international editions are now available in Taiwanese and in Korean.
Project 009 Make a difference from your wallet (Book)
~ Donation links book to get to know and make an action ~
A new project that developed from Project 005 "Global Change in One Second". We hope this book will become one that will propose a specific action by illustrating how our money may change the world. We have linked the information of NPOs/NGOs and companies that actually work on-site, in order to create a structure which will lead to donations.
12:00AM End of the Tour
It was a lot of learning... and fun!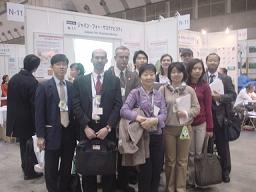 Thank you and see you next year!