April 27th .2004
Introduction
On April 27th, Japan for Sustainability (www.japanfs.org) held a seminar on sustainable city initiatives, featuring Mr. Herbert Girardet (director of Schumacher Society, UK) and Junko Edahiro (co-founder, JFS).
Mr. Girardet, who is an expert of the global environmental issues and a renowned documentary film maker, headed English production team of NHK TV program "State of the Earth" in 2000. His three books are available in Japanese.
Being an ardent reader of JFS newsletter himself, Mr. Girardet is now editing Schumacher Society's latest booklet based on JFS articles.
In this seminar, he shared with us his latest experience of consulting sustainable city initiatives in London, Adelaide, and other cities in Europe.
He covered such topics as;
1) What are the successful examples? How and why these initiatives got started?
2) What are the goals? How have those goals gained consensus among players?
3) In what way private corporations are involved in those initiatives?
4) What are the legal or procedual challenges?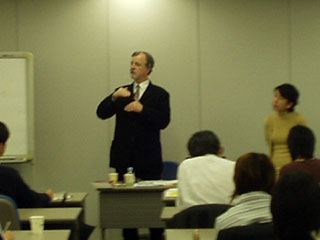 Profile of the presenter:
Herbert Girardet, Chairman of the Schumacher Society, is a UN Global 500 Award recipient, the author of the acclaimed The Gaia Atlas of Cities and co-author of Making Cities Work, published by Earthscan for Habitat II. His documentary on London's metabolism, Metropolis, was shown on Channel 4,London, in 1994. His report Getting London in Shape for 2000 was commissioned by London First. He also co-authored the report Creating a Sustainable London. He is Visiting Professor for Environmental Planning at Middlesex University, London.
Related website:
- "Creating Sustainable Cities" by Herbert Girardet
- Shumacher UK

Proceedings
"Cities, People, Planet, - A tale of three cities -" (PDF file : 193KB)