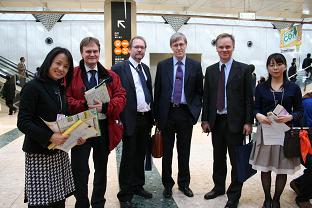 (Mrs. Kawata's Guide team)
Participants: 45guests in total for two days
Tour guides: Shiro Hosojima, Hiroko Kawata, Kevin Cameron, Tomoe Kawabuchi
Support staff: Shoko Sugasawa, Mizue Kasai, Kouta Tsukashima, Mitsue Goto, Saori Ageta, Asaki Shinoda
Back office staff: Takeshi Nozawa, Noriko Sakamoto
Camera Crew: Ryuta Sato, Kaori Ito, Tomoko Kurasaka, Natsuyo Iida, Megumi Takashima
Tour Concept
This year's guided tours aimed to introduce a wide range of Japanese environmental initiatives from advanced technologies to CSR activities, referring to how Japan can contribute to global environmental issues while giving certain impacts on the Earth as well.
Booths to Visit
Future of Biomass

Dowa EcoSystem

Sharp Corporation

Asahi Corporation

More Reports (Including Movies!)
JFS English Guided Tour Blog
Eco Product Navigator 2007


Future of Biomass (special section)
Joint exhibition:Biomasses are drawing attention as alternative resource of fossil fuels for the future. In this special section, numerous organizations and corporations presented latest biomass technology in Japan.
Company & Organization:M.I.C., National Agricultural Research Center, Renewable Energy Promotion & Association.
Products: "Biomass toy"
M.I.C. is known as Figure Toy Company in Japan. M.I.C. has created environmentally friendly toy with blend of 70-85% wood cellulose ingredient and binder material. Example of wood cellulose ingredients is sugarcane, malt feed, timber, rice hull, and tea leaves. This toy is biodegradable and you can dispose them as flammable garbage. In 2007, M.I.C. is approaching another step with Bandai to develop biomass toy originated from coffee silver skin.
Product: High Biomass Sugarcane Project
Kyushu and Okinawa Region focused on development of high biomass sugarcane.
There are three promising features in this project. First, compared to regular sugarcane, high biomass sugarcane has capability to grow more stems from one seedling. Second, reproduction rate is much faster than normal sugarcane. Third, high biomass sugarcane is robust in harsh environment
Products: Future of renewable energy in Japan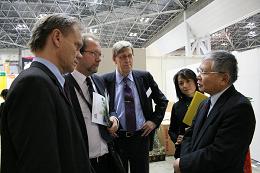 Renewable Energy Promotion Association demonstrated about importance of Bioenergy. Currently, Japan relies heavily on foreign energy with 80% imported. By 2010, EU set the target to increase renewable energy up to 20% of total energy. Japan is aiming to increase renewable energy up to only 1.35% of total energy. Renewable Energy Promotion Association has been conducting seminars, study sessions, and symposium about importance of converting reliance of fossil fuel to renewable energy in coming years.
There was free discussion with German environmental consultant Mr. Alfred Eschcerle about ongoing CO2 emission trading in Germany, current condition of biofuel in EU, and CO2 reduction from renewable energy at home.
DOWA ECO-SYSTEM Co., Ltd. is a subsidiary company of Dowa Mining Co., Ltd.
This company provides core services in Resource Recycling, Waste Management, Soil Remediation, and Environmental Consulting
Product: Metal ResourceRecycling System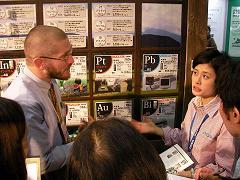 Dowa's metal recycling recaptures and recycles 18 different metals such as gold and silver, derived from the refinement techniques developed in the metal mining and smelting industry. The recovered metal resources are brought back into society as newborn product such as accessories, electronic substrates, films, electrical wires, and so forth.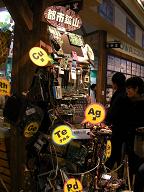 Why recycle?:Over the years, enormous increase of metals are used in IT appliances. Demand of gold is going out of control, and resources are becoming limited. Why is that problem for Japan? First, large percentages of gold are found in Africa, Australia, and Peru. Second, Researcher has anticipated that gold will be expected to disappear in 19 Years. In order maintain precious metal resources, recycling is key factor for countries that rely on foreign metals like Japan.
Dowa's Sustainable Gold:DOWA has Manufactured 100% recycled gold ring. To develop one sustainable ring, 200 cell phones are required. If you compare 1kg of natural gold over 100% Dowa's recycled gold, recycled gold is only 1/300 of environmental load. Dowa has designed sustainable gold in shape of "S". This "S" resembles DOWA's vision, sustainability.
http://www.dowa-eco.co.jp/event/eco-pro2007/download/03_sustainable_gold.pdf
One of the leading electronics companies in the world.
Products: LCD TV AQUOS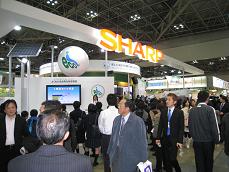 Energy saving:New LCD television AQUOS has exceptional energy saving features. Power consumption of 37 inch AQUOS (LC-37GE2) in 2005 was 279kWh/year, and in 2007, 52 inch AQUOS (LC-52GX3W) managed to achieve 273kWh/year.
One of representative energy saving feature is automatic sensor adjusts light on the screen by brightness in the room. This enables AQUOS to cut down energy use when room becomes dark.
"Kameyama Plant",Aquos Manufacuring Facility
At Sharp, Kameyama plant is set to become the world's most environmentally advanced factory. This plant has three unique features that contribute to energy saving and CO2 reduction.1)Photovoltaic Power system: generate a total of 5,210kW of electricity. This is sum of average household electricity use in Japan, for all combined up to 1,300 homes.2)Cogeneration System: energy-saving power-generating system that uses environmentally friendly LNG to fuel electricity-producing engines. Waste heat generated in this process is recycled for air-conditioning and water heating.3)1,000-kW fuel cell system: an environmentally friendly power-generating system that directly converts the chemical energy in natural gas into electric energy without combustion. As a result, about one third of the electricity used there is independently generated, and total CO2 emission has been reduced by 40%.
Solar Windows
Sharp photovoltaic modules and power conditioners were the first in the industry to acquire the Eco Mark. This means that their outstanding environmental features, which generate electricity with no environmental impact, have been recognized by thirdparty. At city hall of Suzuka city in Mie Prefecture has installed new silicon thin-film seethrough solar modules. A Seethrough solar module has unique character that allows natural sunlight to pass through while generating electricity.
Closed-Loop Plastic Material Recycling Technology

In fiscal 2001, Sharp and Kansai Recycling Systems Co., Ltd jointly put into practical use a technology for the closed-loop recycling of plastic. Plastics recovered from air conditioners, TVs, refrigerators, and washing machines are used to manufacture new units, and the recovered material can be recycled repeatedly. In fiscal 2006, Sharp recycled approximately 620 tons of plastic, major contribution in part to the development of technology for recycling washing tub (polypropylene plastic). In fiscal 2008, Sharp plans to use 1,000 tons of recycled plastic.
Asahi Brewery is second largest beer brewery and soft drink Company in Japan.
Products: CSR activities
Transportation Distance and CO2 Emmissions
Promoting Modal Shift: Asahi is endeavoring to minimize transportation between sites in an effort to reduce CO2 emissions. Asahi has modal shifted truck and automobile transportation to railroad and ship transportation in unit load system. By setting into new modal, Asahi has managed to cut 63% of CO2 from transportation.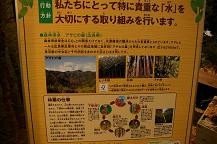 Asahi Forest
Why preserve forest by Beer Company? Asahi is a beverage company that requires valuable water, and producer of this rich water is forest that is managed well. Asahi forest aims to engage in sustainable management by harvesting mature trees, striving to ensure a continuous, long term, stable supply of lumber. Asahi are conscious of the value of natural forests are beneficial to the environment, and avoid converting them to plantation forests.
"Asahi Forest" is located in Shobara city, Hiroshima Prefecture. This forest occupies about 2,165 hectares(the equivalent of 463 Tokyo Dome Stadium). This forest absorbs approximately 12,000 tons of CO2 annually (about 2000-3000 household CO2 output).
In 2001, Asahi Breweries has obtained FSC certification in recognition of sound forest management from the Forest Stewardship Council, an international certification institution for forest management.