Participants: 40 in total for two days
Tour guides: Shiro Hosojima, Kevin Cameron, Kazunori Kobayashi
Support staff: Natsuyo Iida, Yayoi Suzuki, Eri Nagafusa, Risa Onishi
Back office staff: Takeshi Nozawa, Noriko Sakamoto
Tour Concept
This year's guided tours aimed to look at products and services from a viewpoint of: "What if this product is in your country?" We looked for latest products and services that may be more suitable for use in countries outside of Japan. We also introduced Japanese traditional eco products and its modern innovation.
Booths to Visit
More Reports (Including Movies!)
JFS English Guided Tour Movie Project
JFS English Guided Tour Movie Project 2006
http://ecoproduct2006movie.blogspot.com/



Eco Product 2006 Staff Review -Movies and Article(Personal opinion about the tour from English Guide Tour staff)
http://e-productreview2006.blogspot.com/



Other Information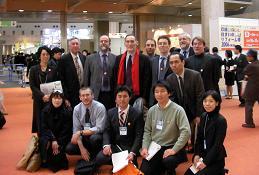 Thank you and see you next year!