Participants: 40 in total for two days, from Belgium, Iran, Sweden, the UK, the US and many other countries
Tour Guides: Shiro Hosojima, Natsuyo Iida, Kazunori Kobayashi
Staff: Hiromi Kawaraki, Chizuko Sato, Yayoi Suzuki
Translators: Ayako Kimura, Eri Nagafusa
Tour Concept
This year's guided tours aimed to introduce a wide range of Japanese environmental initiatives from advanced technologies to alternative lifestyles, referring to how Japan can contribute to global environmental issues while giving certain impacts on the Earth as well.
Japan in the World
~ Information about current Japanese environment ~
Ecological footprint
The average of world: 2.2 ha/person.
Japan: 4.3 ha/person

If people in the world start similar lifestyle like in Japan, 2.4 planets would be needed. Thus, it is necessary to decrease Japanese economical consumption by half or less.


Energy consumption (oil equivalent conversion)
In 2002, the Japanese annual energy consumption per person was about 4.06 tons, roughly 2.5 times more than the world average (1.65 tons). Most of energy resource comes from out of Japan, and only four percent are originally made from Japan.


Renewable energy
In 2001, renewable energy accounted for 3.2 percent out of the total primary energy supply.


Carbon dioxide (CO2) emissions
In 2002, about 2.67 tons of CO2 are emitted by each person in Japan. Compared to the world average, 1.12 tons, Japan emits about 2.4 times more CO2 than rest of the world.


Japan for the World
~ How can Japan influence and make changes to the world? ~
Technological advancement (e.g. photovoltaic (PV) modules, biomass plastics, energy saving)
New movements in Japan (e.g. lifestyle changes, eco-designs)


Booths to Visit
More Reports
Behind the Scenes
http://ecoprotour.blogspot.com/
Guests' Comments
http://ecoprointlguests.blogspot.com/
Report by Mr. Hosojima (JFS intern)
http://ecopro2005.blogspot.com/
Report by "Volunteer Journalists"
http://ecoprojfsvolunteer.blogspot.com/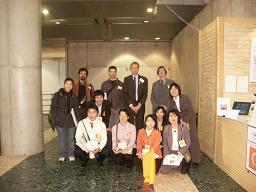 Thank you and see you next year!