Climate Change Action by Government, Industry, Academia, and Citizens before the G8 Hokkaido Toyako Summit
March 18, 2008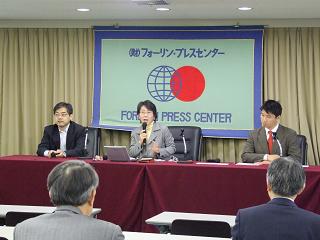 Climate change has become one of the hottest topics on Earth. With the G8 Hokkaido Toyako Summit, approaching in July 2008, Japan has an opportunity to share with the world its latest initiatives and traditional wisdom in order to boost global awareness of the urgency and solutions.
Japan for Sustainability (JFS) held a briefing session for foreign correspondents, freelance journalists, and embassy officials on the latest climate change actions and initiatives by government, industry, academia and citizens on March 18, 2008. The briefing and question-and-answer session were organized to help participants grasp the state of Japan's global warming measures in various sectors and an by various actors, based on our experience from reporting on these issues.
Discussion with JFS speakers and audience was very active on the topic of the big picture of Japan and the world, especially regarding the urgent issue of climate change in the lead-up to the G8 Summit in July.
Contents: Video and Handouts

"Greetings and about JFS"
Presentation on Climate Change Action

"Government"

"Industry"

"Citizens"
Entire handout (PDF file: 429KB)