September 11, 2007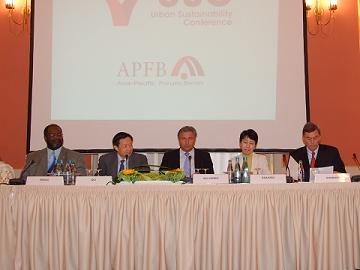 Junko Edahiro, Chief Executive of Japan for Sustainability was invited to the Urban Sustainability Conference held in Berlin, and delivered a keynote speech on September 11, 2007.
The Urban Sustainability Conference (USC), organized by the Asia-Pacific Forum Berlin (APFB) and held from 11 to 15 September 2007, focused on themes related to the sustainability of urban infrastructure. It explored the potential for future cooperation between cities on urban infrastructure in the areas of urban planning and architecture, building technology, transport and mobility, energy, water, waste, life sciences, and information and communications technologies. The USC particularly aimed to promote cooperation and exchanges with Asian partners of expertise in innovative environmental technology such as state-of-the-art energy efficiency technologies.
Ms. Edahiro made one of the keynote speeches at the opening session on the first day, and introduced some aspects of Japan in regard to sustainability from a historical perspective--from traditional lifestyles in the Edo period (1603-1867) to the Japanese sense of values, and recent trends in Japan including the "slow movement."
Her speech emphasized that we must move from one-way and even two-way communication as a way of sharing experience and learning from each other, to what she calls "co-creative or generative communication," in order to create a new paradigm and values by cultivating what both East and West can offer each other.
Urban Sustainability Conference: Opening
http://www.berlin.de/apforum/english/apw/apw2007/retro_usc.html
Opening Speech by Junko Edahiro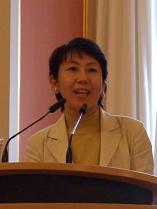 "Opening Speech at Urban Sustainability Conference"
(PDF file: 48KB)
The abstract is also posted on the
WorldChanging website
.