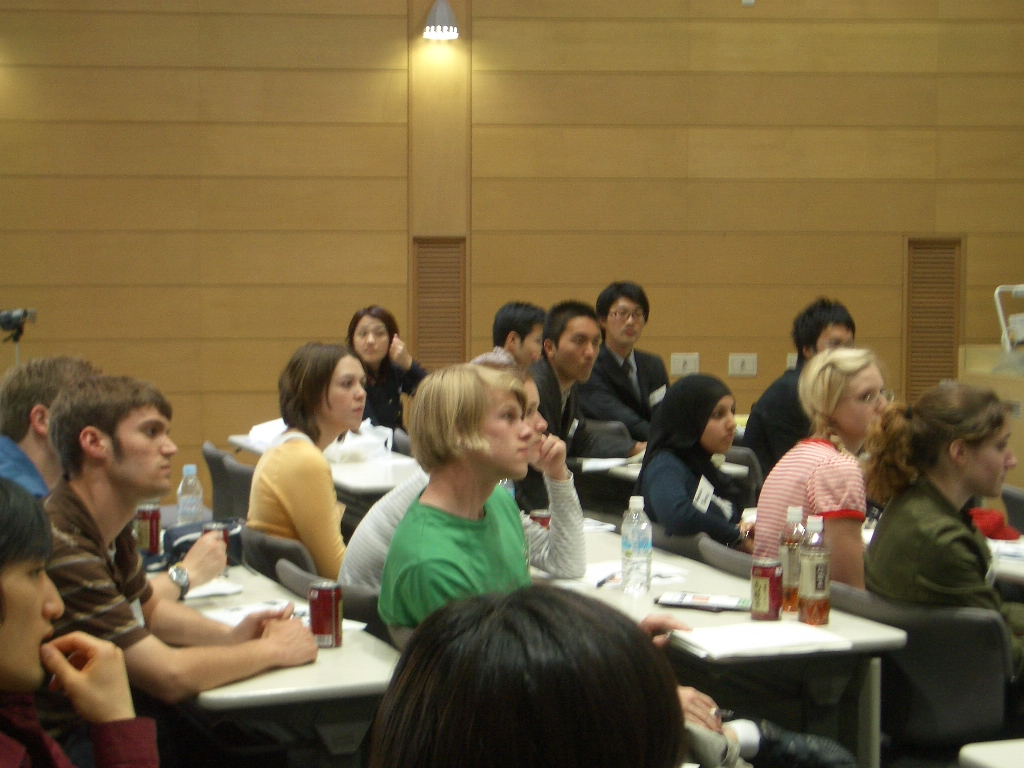 From 2004 to 2006, Japan for Sustainability (JFS) jointly held annual Japan-U.S. Student Environmental Forums with Kansas Asia Scholars Program of the University of Kansas (KU), the U.S.A. It was an email from Dr. Patricia Graham of KU that led to holding the series of student programs. She asked JFS if we could set a s meeting with her and her students when they visited Japan in June 2004. Responding to her e-mail, JFS organized a group of Japanese university students and had the first student forum with KU in 2004.
In the past three forums held from 2004 to 2006, students discussed sustainability from their own perspectives--how different and how similar their views were, and what vision they could build together toward a sustainable world.
The following is an overview of the 2006 forum.
Program: Japan-U.S. Student Environmental Forum 2006
Time:
June 6 (Tue), 2006
Place:
Research into Artifacts, Center for Engineering (RACE), The University of Tokyo
Co-Organized by:
Kansas Asia Scholars, The University of Kansas and JFS
Sponsored by:
RACE of The University of Tokyo
Co-operated by:
Suntory, Limited. (JFS Corporate member)
Participants:
KU--9 students of Kansas Asia Scholars Program
JFS--15 students from Meiji Gakuin. Keio, Waseda, Jiki Medicine, Yokohama National, Azabu, Tokyo Agriculture, Tokyo, Bunkyo universities
Time table
Opening Remarks

Dr. Hajime Asama of RACE

About RACE
http://www.race.u-tokyo.ac.jp/about/index.html
Profile of Dr. Asama
http://www.race.u-tokyo.ac.jp/~asama/index_e.html




Presentation: 13:00-15:45

KU
Transportation and Food Situation at Lawrence, Kansas

Car Transportation
Public Transportation
Organizations that Promote Sustainable Agriculture
Local Restaurants and Food Service at Local Schools





JFS

Energy
Biomass
Lifestyle







Group Discussion: 16:00-17:30

Energy
Economy
Lifestyle





Summary of Group Discussion


Closing


Reception: 19:30-
Place: The International Life and Food Association (ILFA)
Co-operated by:
The International Life and Food Association (ILFA) (JFS Corporate member)
Suntory, Limited. (JFS Corporate member)


Site Visit
Time:
June 11 (Sat), 2006
Place:
National Museum of Emerging Science and Innovation