Introduction
On June 14th, Japan for Sustainability (JFS) held a seminar on "How to spread eco-products/services collaboration between NGO and corporation". This seminar features Ms. Yumiko Otani (Ilfa) and Ms. Naoko Tanemori from Japan, (Global Village PR Director, Fair Trade Company) and Ms. Sabrina Vigilante (Marketing Manager, Rainforest Alliance) from United States of America.
Seminar included three speakers that shared their expertise, success, and difficulties in eco-business. Following each presentation, three presenters and coordinator Junko Edahiro (Co-Chief Executive of JFS), shared their views on collaborative work of NGO and corporation. The collaboration of the two major forces has possibilities of major contribution to citizens that lacks knowledge of eco-products/services.
Ms. Sabrina Vigilante is marketing manager of Rainforest Alliance, who presented "Innovative Solutions for Global Conservation". She has pointed out about her ongoing activities, requirements, and proceeding program in Rainforest Alliance.
The topics Ms Vigilante covered in "Innovative Solutions for Global Conservation" are:
Experiences and ventures in expanding "RA certification" to promote sustainable agriculture.
Experiences in collaborating with businesses
What's next
Profile of the presenter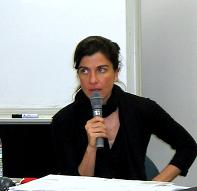 Ms. Sabrina Vigilante
As a marketing manager at Headquarter of Rainforest Alliance, she has involved over 10 years of international marketing in "maintenance of agricultural sustainable program". She is currently involved in Latin American plantation, consumers of Asia and Western Countries. She is urging a program involved in enacting with every coffee retail dealers.
Rainforest Alliance
Rainforest Alliance (RA) is non-governmental organization, where headquarter office is located in New York City. Rainforest Alliance is one of the nine non-governmental organization located in Latin America and also a member of sustainable agricultural network. Rainforest Alliance has missions to protect ecosystems to support people in wildlife that has dependence of use in land-use practices, business practices, and behavior of the consumers. RA has an aim to improve tropical regions by increasing agricultural development by maintaining productions of coffee, banana, orange, and sugar cane that affiliates with natural conservation organization to prevent confusions of cutting the trees. Rainforest Alliance concentrates on ecological conservation, engagement to enhance guidance daily livelihood.
http://www.rainforest-alliance.org/
PROCEEDINGS
Case study 1: Rainforest Alliance (NGO)
Presentation
"Innovative Solutions for Global Conservation"
(PDF file : 2.91MB)
Sabrina Vigilante (Marketing Manager, Sustainable Agriculture)
SUMMARY of "Innovative Solutions for Global Conservation
Ms. Sabrina Vigilante (marketing manager of Rainforest Alliance) has presented "Innovative Solution for Global Conservation" and addressed her current activities at Rainforest Alliance. The organization materialized a standard through very comprehensive multi-stakeholder consultation process involved environmental groups, labor groups, policy makers, scientists, industry, and local communities.
Throughout the presentation, Ms. Vigilante remarked Rainforest Alliance program with their ongoing activities on environmental problem related to deforestation, population growth, animal extinction, and agricultural system. Rainforest Alliance defines "conservation is the key to ecological management". The organization concentrates on enhancing monitoring and evaluating system to educate industry and consumers about responsibilities of Rainforest Alliance. Ms. Vigilante correspondingly pointed out about the methods of sustainable agricultural principles. Rainforest Alliance has created a symbol called "frog seal". A symbol of Rainforest Alliance certified to farmers and forestry operation to promote and implement sustainable land use practices. From great outcome in the market, frog seal is gaining popularity around the world including Japan.