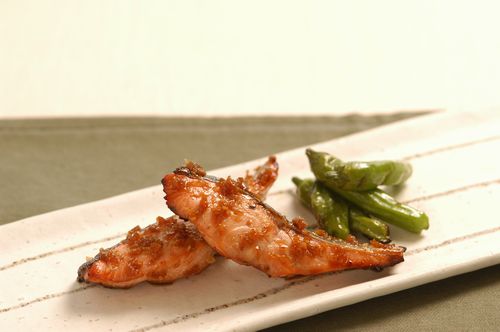 Cooking Time: about 30 minutes
Grilling main and side dishes at slightly different times on the same grill will contribute to conserving energy. Heating the marinade on the grill when cooking the salmon makes a quick-and-easy hot sauce for dipping and drizzling.
Eco-Energy Points
Grill shishito peppers first on the preheating grill so as to reduce the time required to cook the salmon.
Use fish in season
Cook the marinade while grilling the fish.
(The marinade should be put in a heat-resistant container which can withstand direct heat)
Ingredients (4 servings)
4 pieces of salmon (from 80g to 100g per piece)
A
10 cm naganegi onion (or substitute scallions, spring onions or green onions)
1 piece of ginger
1 clove of garlic
1/2 teaspoon shichimi-togarashi (or substitute crushed red pepper)
1 tablespoon sugar
Dash of pepper
3 tablespoons soy sauce
1 tablespoon sesame oil
12 shishito peppers
Enough vegetable oil to coat peppers
Directions
Finely chop the naganegi onion, ginger and garlic
Marinate the salmon in the mixed A ingredients for about 10 minutes. Then, take the salmon out and put the marinade in the heat-resistant container.
Make some small holes in the shishito peppers, dress them with vegetable oil, and grill.
On double-sided grill (heat sources on top and bottom), grill for about 2 minutes on high heat
On single-sided grill, grill for about 2 minutes on high heat, turn over, and grill for another 2 minutes.
Grill the salmon while simmering the marinade
On double-sided grill, grill for about 5 minutes on high heat
On single-sided grill, grill for about 3 minutes on high heat and another 2 minutes on the other side (Stir the marinade along the way)
Edahiro's Comments
Shichimi-togarashi is basically a mix of seven kinds of spices with red chili peppers as the main ingredient. The kinds and amounts of ingredients blended together depend on the producer. There used to be a lot of shops that would blend the spices on the spot according to the customers' tastes. Please enjoy using this recipe with different varieties of local seasonal foods and spices instead of salmon and shishito peppers.
This recipe is adopted from the "Eco-Cooking" website by Tokyo Gas Co.
http://home.tokyo-gas.co.jp/shoku/ecocooking/recipe/201208_sake.html