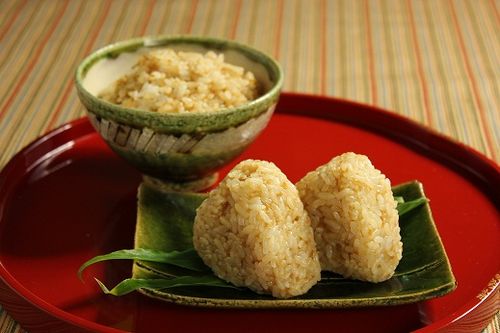 Cooking Time: about 35 minutes
Freshly harvested ginger has great taste and fresh flavor. Isn't summer ginger too good to use only as a spice or seasoning? How about enjoying a tasty ginger riceball?
Eco-Energy Points
Uses whole, unpeeled ginger
Enjoy summer flavors and colors by garnishing with the bud of the Japanese pepper, myoga (Japanese ginger) and mitsuba leaves
Make sure to keep the flame directly below the pot to conserve energy
Ingredients (4 servings)
300 grams rice
450 ml water
<Sweet and spicy ginger mixture>
100 grams ginger
A
50 ml Japanese sake
50 ml mirin (sweet rice-based cooking sake)
2 tablespoons soy sauce
200 ml water
Directions
Cook the rice
Prepare ginger mixture with sweet soy sauce flavoring:
Finely chop the well-washed, unpeeled ginger and put into a pan;
Add A ingredients and simmer until almost no liquid remains.
Add the ginger mixture to the cooked rice, mix together, and put ginger rice into bowls or pack by hand into riceballs.
Edahiro's Comments
People often enjoy a variety of mixed rice called "maze-gohan" everywhere in our country, and each region has a different version. Here, we mix boiled rice with aromatic ginger cooked with soy sauce and mirin--typical Japanese flavors. The mirin may be substituted for Japanese sake and sugar. It is also possible to make tasty ginger rice with regional seasonings from your country!
This recipe is adopted from the "Eco-Cooking" website by Tokyo Gas Co.
http://home.tokyo-gas.co.jp/shoku/ecocooking/recipe/201109_syouga01.html