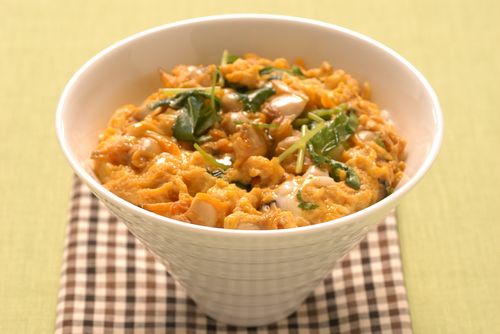 Cooking time: about 15 minutes
A great spring and early summer dish! The dish uses a generous number of juicy asari clams, which brings out a taste of downtown Tokyo. Enjoy the dish with the fresh flavor of unpeeled ginger. Makes for a nice and easy one-pot meal.
Eco-Energy Point
Uses whole ginger.
Uses the same pot for the whole cooking process.
Use a lid on the cooking pot to reduce energy consumption.
Ingredients (4 servings)
10 mistuba leaves
1 piece ginger
200 grams Asari clams, removed from shells
A
1 cup soup stock
1 tablespoon sugar
2 tablespoons mirin (sweet rice-based cooking sake)
2 tablespoons soy sauce
4 eggs, beaten
Cooked rice
Directions
Cut the mitsuba into 2cm lengths and the well-washed, unpeeled ginger into strips.
Put the asari into salted water and shake to wash, then remove from water with strainer and drain.
Bring Group A ingredients to a boil in saucepan. Add the asari and the ginger, and boil over high heat.
Add the beaten-eggs, sprinkle the mitsuba on top, and boil until eggs are fluffy and soft.
Put the cooked rice in bowls and arrange the seasoned asari-egg mixture on top.
Edahiro's Comments
Fukagawa is the name of a town in Tokyo, located at the mouth of the Sumida River. Asari and other clams were and still are a characteristic product of the area. Fishermen around this area at the end of the Edo period first ate the dish, earning it the name Fukagawa-don. (Don is short for donburi, meaning "large bowl" and used when a savory dish is served on the rice rather than separately.) Cheap, easy, and quick to eat--the Fukagawa-don may have been one of the fast foods of the Edo period. Do you have a home dish named after your area? If you look into the origin of the dish, you may find a history of the food and the environment around that time.
This recipe is adopted from the "Eco-Cooking" website by Tokyo Gas Co.
http://home.tokyo-gas.co.jp/shoku/ecocooking/recipe/201205_fukagawa.html