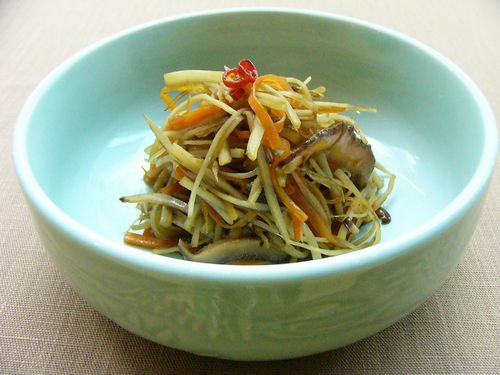 Cooking Time: About 15 minutes
Kinpira Gobo is a typical example of traditional Japanese home-cooking, and is well-liked for its crunchiness. Using unpeeled root vegetables and the liquid the shiitake have been soaked in make it a simple, nourishing dish.
Eco-Energy Point
Uses liquid from soaking dried shiitake to contribute umami to the stock.
Uses whole, well-scrubbed burdock root and carrot.
Uses a lid to reduce energy consumption.
Ingredients (4 servings)
80 grams burdock root
30 grams carrot
1 dried shiitake mushroom, reconstituted by soaking in water
A
2 tablespoons salad oil
1 tablespoon sesame oil
1/2 dried red chili (red togarashi)
B
50ml shiitake soaking liquid
1 tablespoon sake
1 teaspoon sugar
2 teaspoons soy sauce
Directions
Cut burdock root and carrot into 5 centimeter-long matchsticks. Soak and drain the burdock.
Thinly slice the reconstituted shiitake.
Warm oil in a frying pan, add vegetables and chili and stir-fry.
Add B and stir, cover and boil until vegetables are tender but crispy.
Edahiro's Comments
The story of "kinpira gobo" goes back to "Kinpira Joruri," a popular play performed in Japan's traditional puppet theater in the Edo-era, over 350 years ago. The main character, named "Sakata-no-Kinpira," was very stout and strong, and the name "Kinpira" was given to this dish as it is thought that gobo makes the body strong.
This recipe is adopted from the "Eco-Cooking" website by Tokyo Gas Co.
http://home.tokyo-gas.co.jp/shoku/ecocooking/recipe/shokusai_gobou01.html