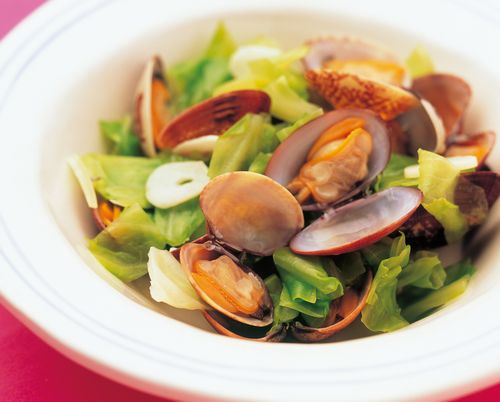 Cooking Time: About 15 minutes
A nice seasonal combination of clams and cabbage in soup. This quick and simple recipe brings out the full flavors of spring. Snap peas, asparagus or field mustard may be substituted for cabbage.
Eco-Energy Point
Use a lid to reduce energy consumption.
Ingredients (4-6 servings)
20-24 asari clams in the shell
3 large cabbage leaves
1 clove of garlic
A
2 tablespoons Japanese sake
A pinch of salt
Directions
Soak clams in salt water overnight or at least for several hours in dark place or in the refrigerator: the water should be similar to seawater in saltiness. When you are ready to cook, rinse the clams and leave them in unsalted water for a while to ready them for cooking.
Cut cabbage into 4-5cm squares. Thinly slice garlic.
Combine 1 & 2 with A, cover the pot and steam until the clams open.
Edahiro's Comments
A variety of steamed dishes using local alcoholic beverages such as wine are popular around the world. In Japan, we also have a variety of steamed dishes using Japanese sake. Sake's ingredients are mainly rice, malted rice and water. Brewers usually use their own particular method, so in each area of Japan we can find unique kinds of sake made of local rice and water and brewed using a characteristic method. It is said that there are a total of about 20,000 kinds of sake in Japan. I hope this food diversity continues to be valued. Any kind of sake may be used for the dish.
This recipe is adopted from the "Eco-Cooking" website by Tokyo Gas Co.
http://home.tokyo-gas.co.jp/shoku/ecocooking/recipe/201003_sakamushi.html