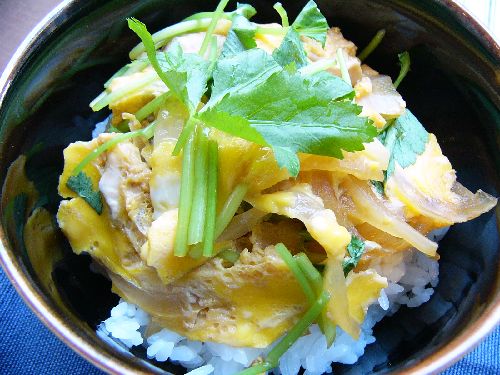 Cooking Time: About 20 minutes
Garnish with a handful of mitsuba (Japanese parsley) for a nice texture. Even without rice, the chicken and egg seasoned with soy-sauce and sugar go well with alcoholic beverages and also make a nice dish for a bento lunchbox.
Eco-Energy Point
Use a lid on the cooking pot to reduce energy consumption.
Ingredients (4 servings)
50 grams mitsuba
1 onion
150 grams chicken breast
1 tablespoon Japanese sake
4 eggs, beaten
A
2 tablespoons fish or chicken broth
2 tablespoons soy sauce
2 tablespoons Japanese sake
2 tablespoons mirin (sweet rice-based cooking wine)

Cooked rice
Shichimi-togarashi (Spiced red pepper seasoning)
Directions
Remove the root ends of the mitsuba and cut into 3-centimeter pieces. Thinly slice the onion.
Slice the chicken breast and pour the sake over it.
Bring A to a boil. Add the sliced onion, cover and boil for 2 minutes. Add the sake-coated chicken breast, cover and boil for another 2 minutes. Add the well-beaten eggs and boil for one minute.
Add mitsuba, cover, remove from heat and let steam.
Put the cooked rice in bowls and arrange the chicken-egg mixture on the rice.
Sprinkle with shichimi-togarashi if desired.
Edahiro's Comments
The name "oyako-don" comes from its ingredients: chicken (oya - parent) and egg (ko - child). Incidentally, when pork is used instead of chicken, the dish is called "tanin-don" (tanin meaning "stranger"). ["Don" is short for "donburi," meaning "large bowl" and used when a savory dish is served on the rice rather than separately.] Covering and steaming the dish makes the eggs fluffy and also saves energy. Mitsuba is an herb often used in Japanese cuisine. Mitsuba, means "three leaves", as each leaf consists of three leaflets. Celery leaves or green onion may be substituted for mitsuba.
This recipe is adopted from the "Eco-Cooking" website by Tokyo Gas Co.
http://home.tokyo-gas.co.jp/shoku/ecocooking/recipe/shokusai_mituba03.html