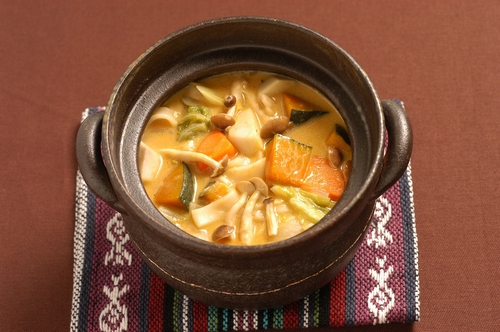 Cooking Time: About 25 minutes
Hoto noodles with milk is a nutritious local dish cooked with plenty of unpeeled seasonal vegetables. It is easy because it is cooked and served in the same pot.
Eco-Energy Point
The carrot and kabocha squash need not be peeled. The green part of the spring onion can also be used.
Covering the pot to contain heat can save energy.
You can use the same pot for the whole process from stove to table.
Ingredients (4 servings)
200 grams of Chinese cabbage
1/2 medium carrot
400 grams of satoimo (taro)
200 grams of kabocha squash
1/2 spring onion
100 grams of shimeji mushrooms
A
800 cc of water
2 bouillon cubes
400 cc of milk
200 grams of hoto noodles*
1 tablespoon of dark-brown miso
B
1/4 teaspoons of salt
1 tablespoon of butter
*Hoto are large, flat, white wheat noodles made with dumpling dough. One feature is that they do not need to be parboiled before being cooked together with vegetables, etc. (unlike udon noodles, with which they are often compared.)
Directions
Divide Chinese cabbage into leaves and stems, cut the leaf coarsely and thinly slice the stem. Cut carrots into lengthwise quarters and slice crosswise into pieces 7 mm thick. Cut satoimo into half moons and slice crosswise into pieces 1 cm thick.
Cut kabocha into bite-size pieces.
Thinly slice the spring onion. Remove the hard part of shimeji mushroom, and divide it into bite-size clumps.
Place A, carrot, satoimo and Chinese cabbage stems into the pot. Cover and cook for about 10 minutes. Then add kabocha and cook for about 5 more minutes.
Add the Chinese cabbage leaves, spring onions and milk. Bring it to a boil and add hoto noodles. Cook them until the noodles become soft (about 12 to 15 minutes).
Add shimeji mushrooms and boil briefly, dissolve the dark-brown miso into the stock and add B.
Edahiro's Comments
Hoto noodles belong to the local cuisine of Yamanashi Prefecture and the surrounding area. It is a kind of wide, heavy pasta. Both the noodles and the dish in which they are cooked with vegetables and miso are called hoto. Yamanashi has a cold winter, but eating hoto cooked with root and leaf vegetables can warm up your body and soul. Other kinds of wide pasta and flour dumplings also go well in hoto. I recommend cooking vegetables unpeeled where possible, because this is more nutritious and produces less waste.
This recipe is adopted from the "Eco-Cooking" website by Tokyo Gas Co.
http://home.tokyo-gas.co.jp/shoku/ecocooking/recipe/201111_houtou.html