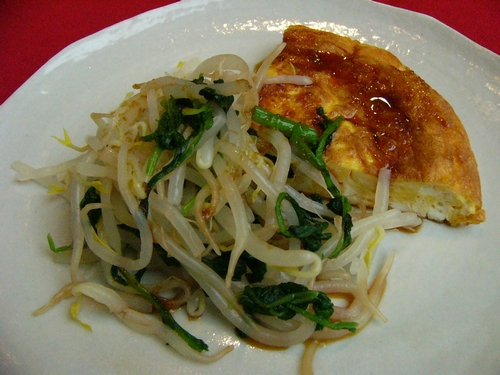 Cooking Time: 20 minutes
This fluffy tofu omelet is complemented by the crispy texture of bean sprouts stir fried with greens. This dish goes well with freshly cooked rice and fits well in a bento lunch box, too.
Eco Energy Point
The vegetables are steam-boiled in a very small amount of water. Placing a lid on the pan can save energy, too.
You can use the same frying pan for the whole process from pre-cooking the vegetables to making sauce.
Ingredients (for 4)
200 grams of medium-hard tofu
200 grams of bean sprouts
50 grams of green leafy vegetables (turnip leaves, etc)
3 eggs
A
2 teaspoons of starch
2 teaspoons of water
1/2 teaspoon of granular bouillon (mixed with small amount of water)
1/2 teaspoon of salt
2 tablespoons of cooking oil
B
1/2 tablespoon of grated garlic
2 tablespoons of soy sauce
2 tablespoons of sugar
1 tablespoon of lemon juice
Recipe
Drain tofu well.
(Vegetables) Wash, drain and remove root ends from sprouts. Cut leafy greens into about 3cm lengths. In a frying pan, bring to a boil about a tablespoon of water and steam-cook vegetables for 3 minutes.
(Omelet) Beat 3 eggs and add A (except for oil) then mix in roughly broken drained tofu. Warm the frying pan, add cooking oil, add the tofu-egg mixture cook it until both sides are light brown, and remove.
(Sauce) Put B into the frying pan, cook it a while, and then add lemon juice.
Cut and serve the omelet garnished with the stir-fry and sauce.
Edahiro's Comments
This is an easy, inexpensive and tasty dish. Steam-cooking is an eco-friendly cooking technique that is applicable to a variety of dishes. Try it on any vegetables you may have at hand. 

This recipe is adopted from the "Eco-Cooking" website by Tokyo Gas Co.
http://home.tokyo-gas.co.jp/shoku/ecocooking/recipe/shokusai_moyashi03.html