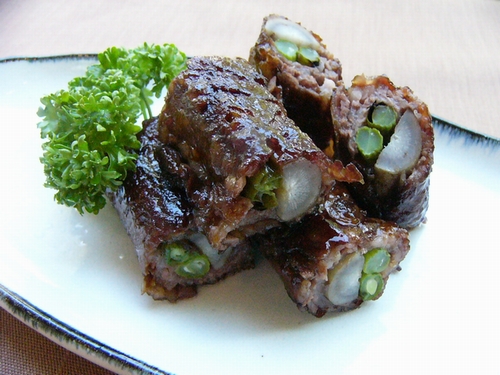 Cooking Time: About 30 minutes
Yawata Maki is a dish in which thinly sliced beef is used to wrap burdock root and other vegetables in a small roll cooked in teriyaki sauce (sugar, soy sauce and Japanese sake). It is nutritious and goes well with freshly cooked rice; it fits well in a bento lunch box, too. Just one frying pan is needed, saving energy.
Eco Energy Point
You can use the same frying pan for the whole process from pre-cooking the vegetables to cooking the rolls.
The vegetables are steam-boiled using only a small amount of water. Placing a lid on the pan can save energy, too.
Ingredients (for 4)
100 grams of burdock root (gobo in Japanese)
8 green beans
200 grams of thinly sliced beef
A tablespoon of starch
A
2 tablespoons of Japanese sake
2 tablespoons of sugar
2 tablespoons of soy sauce
A pinch of salt
A tablespoon of cooking oil
Recipe
Scrub the burdock root and wash the green beans (or any vegetables you might use such as carrot, etc.). Slice the burdock root in half or quarters lengthwise, and soak for several minutes in a bowl of water with a few drops of vinegar. Discard the water when it turns brown. Cut the vegetables to a uniform length.
In a frying pan, bring to a boil just enough water to cover the vegetables and steam-cook them until they become tender, adding them in order of hardness, starting with burdock root.
Spread out beef slices and sprinkle starch on the surface. Place the boiled, drained vegetables on the beef slices, and wrap the beef around them to form a roll.
Brown the beef wraps in cooking oil, then add "A." Cook until the sauce is reduced.
Edahiro's Comments
Yawata Maki originated in the former Yawata Villege (currently Yawata City in Kyoto Prefecture), and took its name from this village. It is seasoned with teriyaki sauce, and is often eaten during the New Year's holidays. Any vegetable can be used; besides burdock root and green beans, scallions, carrots, asparagus and many other kinds of vegetables also taste delicious cooked this way.
This recipe is adopted from the "Eco-Cooking" website by Tokyo Gas Co.
http://home.tokyo-gas.co.jp/shoku/ecocooking/recipe/shokusai_gobou02.html