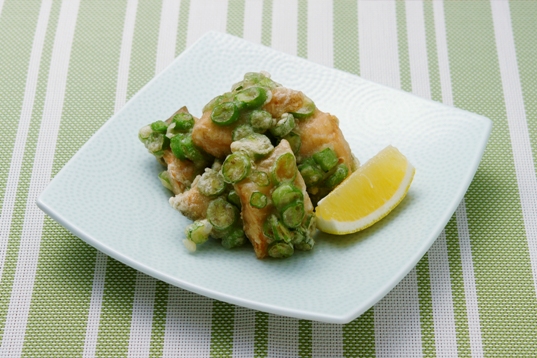 Cooking Time: About 10 minutes
Shishito is a variety of green pepper. It is harvested in summer in Japan, and though it looks like a small jalapeno pepper, is not hot. In this dish, chopped shishito is mixed with salmon in batter. When deep-fried, it releases a tempting fragrance. This dish goes well with freshly cooked rice.
Eco Energy Point
Cutting salmon into small pieces can shorten cooking time and save energy.
Ingredients (for 4)
About 160 grams of salmon
50 grams of shishito (sweet green pepper)
A
1 and 1/2 tablespoons of soy sauce
1/2 tablespoon of Japanese sake
1/2 tablespoon of juice squeezed from grated ginger
B
5 tablespoons of flour
2 and 1/2 tablespoons of cornstarch
4 + tablespoons of water
1 teaspoon of soy sauce
A suitable amount of cooking oil for deep-frying
A pinch of salt
1/2 lemon
Recipe
Cut salmon into 2-centimeter pieces, and marinate in A for about 10 minutes.
Chop shishito finely after removing stem.
Put B into bowl, mix and add chopped shishito.
Paper dry the seasoned salmon and add to 3. Scoop up salmon together with green pepper in the batter and deep-fry at 170 degrees Celsius.
Drain, sprinkle with salt, and serve with sliced lemon.
Edahiro's Comments
Shishito is a sweet variety of hot pepper, akin to a pimento. Its tip is thought to resemble the head of lion, thus the name shishito ("shishi" means lion, and "to" means head). In Japan we deep-fry shishito both without batter, in tempura batter and breaded. In the above dish, we mix chopped shishito into the batter to improve both the flavor and appearance of the salmon dish. Shishito can be replaced with ordinary green peppers, pimentos or any other locally grown vegetable. The point is to eat local food in season. That is the best thing for our bodies and for the earth, too.
This recipe is adopted from the "Eco-Cooking" website by Tokyo Gas Co.
http://home.tokyo-gas.co.jp/shoku/ecocooking/recipe/201206_shokusai_sisitou03.html