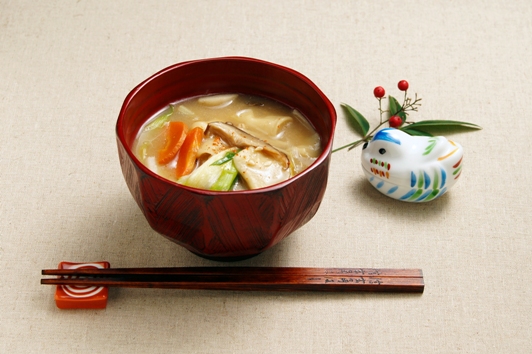 Cooking Time: About 45 minutes
"Mimi" is a traditional local specialty of the Jikkoku area in Yamanashi Prefecture, Japan. Dough made from locally-grown wheat is kneaded, rolled and formed into pastas that look like tiny winnowing baskets and cooked in broth with seasonal vegetables and flavored with "miso" (soybean paste). This is a Yamanashi grandma's heartfelt "ogossou" (meaning "special dish" in the local dialect), that symbolizes their wish for guests to "winnow" out good fortune and happiness
Eco Energy Point
Covering the pot to contain heat can save energy. Making your own pasta instead of buying it also probably saves energy and resources.
Ingredients (for 4 people)
[Mimi Pasta Dough]
100 grams of all-purpose flour
about 25 cc of warm water
[Vegetable Soup]*1
40 grams of burdock root
100 grams of satoimo (taro)
4 shiitake mushrooms
100 grams of daikon (Japanese radish)
50 grams of carrot
1 large spring onion
A pinch of salt
1 block of deep fried tofu
1200 cc of Japanese-style broth *2
(Japanese-style broth: soak 40 grams of small, dried sardines (niboshi) with the head and gut removed in 6 cups of water overnight. Bing to a boil over medium heat, reduce heat, and simmer for 5 minutes. Retain stock and discard fish.)
40 grams of miso (soybean paste)*3
Chili powder
*1 Locally available vegetables can be substituted.
*2 Any kind of broth can be used, such as vegetable or chicken broth.
*3 Soy sauce or other flavoring can be substituted.
Recipe
[Mimi Pasta]
Put the flour into a bowl, add warm water and knead for about 15 minutes.
Roll out the dough to about 2 millimeters thick. Cut into 4 centimeter squares.
Fold up two sides of the square to shape it like a winnowing basket.
[Vegetable Soup]
Wash burdock root and satoimo well with a scrubbing brush. Slice the burdock root diagonally into 1 cm pieces and soak in cold water for about 15 minutes; when the water turns light brown, drain and wash. Peel satoimo and cut into quarters about 1 cm thick, sprinkle with salt and let sit for 5 minutes, wash and drain. Wipe shiitake mushrooms and remove stems. Trim stems and tear lengthwise. Cut caps lengthwise into about 4 pieces. Cut daikon radish and carrots into lengthwise quarters and slice crosswise into pieces 1 cm thick. Slice the white part of the spring onion diagonally into 1 cm pieces Thinly slice the green leaves of the spring onion. Cut the fried tofu in half and cut halves into 1 cm thick slices.
Place a heavy pot on the stove and add a pinch of salt. Place all the vegetables in the pot except the thinly sliced green onion leaves. Sprinkle another pinch of salt on top of the vegetables, cover and braise on low to medium heat for about 10 minutes, stirring occasionally.
When the vegetables have become tender, add broth and bring it to a boil. Add mimi pasta and fried tofu, and boil for about 10 minutes on medium heat.
Add miso (put miso in a ladle or strainer, submerge it lightly into the stock and stir until it dissolves), add thinly sliced green onion, and boil for a moment. Serve with optional chili powder.
Edahiro's Comments
We have a variety of soups containing wheat pasta in Japan. I expect you have your own version of this kind of dish in your country as well. This dish warms the body up nicely. The fried tofu used here is ordinary tofu that has been deep fried. It can be replaced with non-fried tofu or thin slices of meat. It is said that eating whole vegetables (with the skin on) is good for you. Choose safe vegetables grown without chemicals, but wash them well.
This recipe is adopted from the "Eco-Cooking" website by Tokyo Gas Co.
http://home.tokyo-gas.co.jp/shoku/ecocooking/recipe/201209_mimi.html