Kyocera to Launch New PV System with Selectable Operating Modes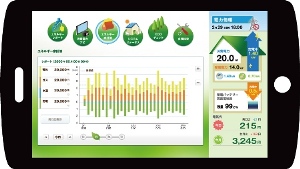 Copyright Kyocera Corp.

Kyocera Corp., a major Japanese manufacturer of electronic components, announced on March 28, 2012, that it will start accepting orders for a new home energy management system on April 1, 2012. The system combines a photovoltaic (PV) generation system with highly durable, high-capacity lithium-ion battery storage units.
A key feature of the new system is that it has six selectable operating modes to meet the energy-use patterns and needs of various users. These include solar PV Power Selling Priority Mode and Eco House Mode. Solar PV Power Selling Priority Mode maximizes electricity sales by charging the storage batteries at night when the electricity is less expensive and discharging them only when the system can generate electricity from sunlight, while Eco House Mode uses of all the electricity generated by the system to minimize carbon emissions.
In a blackout, the system automatically switches to supplying electricity from the storage batteries. By taking advantage of the full 7.2 kilowatt-hours of storage battery capacity, the system can power all electrical appliances needed to live in the home, such as a refrigerator, cooling and heating equipment, and television, at the same time for up to 12 hours. The system generates enough electricity on a clear day to operate independently from the grid even during prolonged blackouts.
Moreover, the system comes with a display unit showing the amount of electricity generated by the PV system and energy being stored by the batteries or used to power appliances. This function will help users save on their electricity bills by allowing them to monitor electricity consumption in each room and identify energy-intensive appliances.

Kyocera Supplies 2 MW of PV Modules to Expressway (Related JFS article)
Japan Predicting Drastic Cut of 50% or More to PV Generation Costs by 2030 (Related JFS article)
[Newsletter] How Japanese Lifestyles and Awareness Changed after the March 11 Great East Japan Earthquake (Related JFS article)
[Renewables] Current Status of Solar Photovoltaic (PV) Generation in Japan
Posted: 2012/06/30 06:00:15 AM