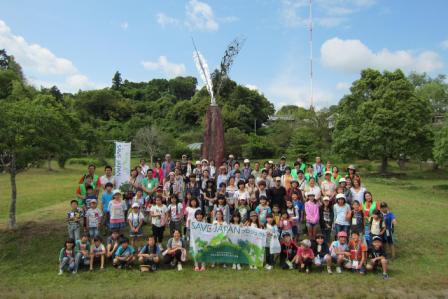 Copyright Sompo Japan Insurance Inc.

Sompo Japan Insurance Inc., a major non-life insurance company, announced on April 9, 2012, that its environmental activity to protect the habitat of rare species in Japan, the SAVE JAPAN Project, would be expanded to cover the entire nation, or all 47 prefectures, from FY2012 onwards.
The SAVE JAPAN Project, which was launched in April 2011, works as follows: when vehicle insurance purchasers select the web-based insurance clauses option instead of the conventional paper-based clauses, the company donates funds to environmental NGOs and according to the number of web-based insurance contracts concluded. NGOs use the donated money to implement community-participation-based environmental activities to protect the habitat of endangered species. In the initial year, activities were implemented in 12 regions.
Through expanding its engagement nationwide into further collaborative activities with more local communities as well as environmental NGOs, the insurance company expects to expand its community-participation-based environmental preservation efforts.
Posted: 2012/07/09 06:00:15 AM