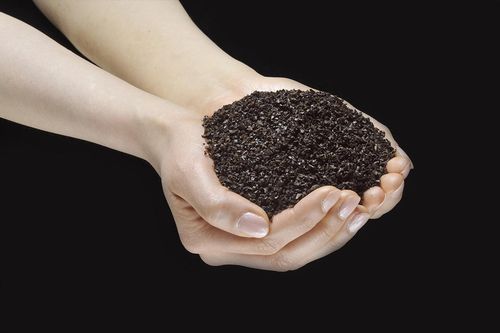 Copyright Marubeni Corp.

Marubeni Corp., a general trading company, and Meiwa Sangyo Co., a food byproduct trader and feed manufacturer, announced in March 2012 that they have successfully developed a method to produce livestock feed from coffee residue in cooperation with the laboratory of Junichi Takahashi, professor of Obihiro University of Agriculture & Veterinary Medicine. Meiwa sought use of coffee residue by using a live bacterial agent which Marubeni has the exclusive right to sell, and Obihiro University conducted verification tests of the method.
There are many problems in using coffee residue as feed material, including the fact that it is perishable and cannot be stored long because it contains a lot of moisture, animals dislike the flavor of coffee, and it contains caffeine. The new technology made it possible to improve the shelf life of coffee residue even with high moisture content, to remove the coffee flavor disliked by animals from the residue, to remarkably improve the digestibility of the fiber contained in the residue, and thus to improve nutrition value of coffee residue as animal feed. The caffeine in the residue was also reduced to about 55 percent.
Most of the approximately 100,000 tons of coffee residue produced annually in Japan is used for composting because of the difficulty in recycling it into feed due to its low digestibility and the fact that animals dislike the flavor. The companies and the university will strengthen cooperation to promote the collection of coffee residue from beverage manufacturers and sell recycled feed to stockbreeding farmers in Japan, as well as to effectively use food residue and to improve the self-sufficiency rate for feed in Japan.
Aeon Sells Pork Raised on Recycled Foods (Related JFS article)
Coca-Cola Japan Using Energy Derived from Coffee and Tea Residues (Related JFS article)
Posted: 2012/06/07 06:00:15 AM