JFS Newsletter No.99 (November 2010)
"Towards a Sustainable Japan -- Corporations at Work" (No. 97):
http://www.dentsu.com/index.html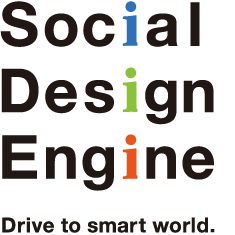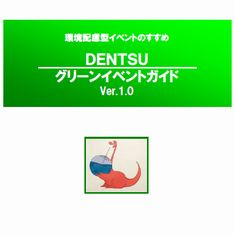 DENTSU Social Design Engine
DENTSU Green Event Guide
Copyright Dentsu Inc.

In October 2010, the 10th Conference of the Parties to the Convention on Biological Diversity (COP10) was held in Nagoya, Aichi Prefecture, Japan. To promote this conference, Dentsu Inc., one of Japan's largest advertising agencies, worked in collaboration with the Ministry of the Environment to improve communications in order to raise public awareness about biodiversity. Dentsu created the COP 10 logo, devised the slogan "For All the Life on Earth," which expresses the importance of biodiversity in an easy-to-understand way, and thus played a role in encouraging media coverage and raising public awareness.

The original Dentsu Inc. dates back to 1901, the first year of the 20th century. In that year, Hoshio Mitsunaga, a war correspondent during the Sino-Japanese War (1894-1895), founded "Japan Advertising Ltd." with the vision of achieving prompt and non-partisan reporting. This company started providing newspaper agencies with advertisements and news in an attempt to strengthen the operating foundation of news agencies.
About 110 years have passed, and Dentsu now has 6,724 employees. Under the slogan of Good Innovation, the company is mainly engaged in providing comprehensive solutions and consulting to a wide variety of communication businesses, serving more than 6,000 clients in solving their management and business challenges and implementing their marketing communications.

The Increasing Need for Social Communication
While Dentsu, which is said to have the largest number of clients of any advertising agency in Japan, is involved in company branding in various sectors, and has also worked on planning and producing an increasing number of highly public advertisements, content, campaigns, and strategies. This is a result of an increasing need for communications regarding diversified social issues -- not only about environmental problems but also about international contributions and regional revitalization issues. In this context, in April 2009, the company set up a communication planning unit specializing in public services, called the Dentsu Social Design Engine. Dentsu's advertising creators, strategy planners, producers, and other employees who are well-versed in this field were gathered to form a task force to provide effective project proposals by offering a one-stop service to clients.
The unit's staff members have also been involved in various projects besides the promotion of COP10. For instance, they supported the activities of TABLE FOR TWO International, a non-governmental organization engaged in solving hunger and malnutrition in developing countries, as well as obesity and lifestyle-related diseases in industrialized countries. They have also worked for Food Action Nippon, a project of the Ministry of the Agriculture, Forestry and Fisheries that aims to improve Japan's food self sufficiency rate (which is extremely low compared to other industrialized countries). They have also been engaged in the efforts of the Japan Committee for UNICEF to promote the Global Hand-Washing Day project, which aims to protect children from hygiene-related diseases. In this way, Dentsu is making efforts to meet the increasing need for social communication by actively cooperating with various government agencies, non-governmental and nonprofit organizations, international organizations, and so on.
http://www.dentsu.com/csr-env/administration/index.html
Japanese Food Self-Sufficiency and Local Initiatives to Improve It
http://www.japanfs.org/en/mailmagazine/newsletter/pages/030007.html
"TABLE FOR TWO" Promoting Healthier Meals Locally and School Lunch Donations Internationally
http://www.japanfs.org/en/mailmagazine/newsletter/pages/029935.html
To encourage clients from various sectors to engage in communication that aims to solve environmental and social problems, one imperative is to raise employees' awareness of these problems. For this reason, the company established an Environmental Strategy Council in July 2008 to induce rapid progress the whole group's environmental strategies.
"The management tried hard to convey their belief to employees, and this has steadily changed the atmosphere of the entire company," said Tadashi Kamakura, Senior Manager of ECO Project Department, Business Management Division, as he looked back at the changes in the company over the past several years. "Because we tend to be seen as a company that makes a profit using environmental issues as a tool, our president always says that all employees must increase their awareness of environmental issues and work on them seriously as corporate citizens. Only when this is done properly can employees support their clients."
In November 2008, Dentsu made a pledge regarding their environmental activities in the form of an Eco-First Promise to the Environmental Minister and received recognition as an Eco-First Company. This promise consists of three main points: global warming prevention, activities to promote a recycling-oriented society, and environment-related social communication. Dentsu, which puts comprehensive solutions regarding communications at the core of its business, focuses most particularly on environment-related social communication.
http://www.dentsu.com/csr-env/environment/index.html
Major Japanese Companies Make Commitments to Environment Ministry under Eco-First Program
http://www.japanfs.org/en/pages/028505.html

Providing Appropriate Environmental Communication Settings via Events
As a part of this effort, Dentsu drew up the DENTSU Green Event Guide in August 2008, a compendium of checkpoints for strengthening environmental management when holding events. The Green Event Guide is founded on the three principles of 1) environmental friendliness with a particular focus on reducing CO2 emissions, 2) action programs that can proceed from what can presently be done, and 3) procedures for a plan-do-check-act (PDCA) cycle with environment-friendly checkpoints, and illustrates practical actions for environmental friendliness during each event phase, from planning and organizing to an environmental burden check after the event is over.
"For example, even if a client company pays considerable attention to reducing the environmental burden arising from its manufacturing facilities, etc., it may not have environmental standards for holding events due to a lack of experience. At the same time, event-type communications are accessible to the general public. So, for better or worse, the behavior shown by a company at an event has a great impact on the general public," says Kamakura.
By promoting environmentally friendly events according to this guide for clients, Dentsu aims not only to reduce the actual environmental burden arising from the events themselves, but also to increase the environmental awareness of the general public and encourage them to take action.
The first event guide was issued as Ver. 1.0, as it was originally designed to be updated by adding new information on a timely basis. However, a more complicated update has not been conducted. Dentsu noticed that communicating basic ideas through the guide was enough, since each event was different depending on the client and the situation. Based on this guide, each Dentsu employee in charge has to talk with clients and explore the best solutions.
In reality, it may be impossible for clients to take environmentally friendly action at some events due to restrictions on the budget and venue. Even so, the general public will feel differently when the client takes the methods proposed by Dentsu and implements them to the extent possible, even if not perfectly, as opposed to taking no consideration of the environmental burden at all. "To share the concept of environmentally friendly events with clients will help them fulfill their goals for accountability," Kamakura said regarding the significance of these activities.

Utilizing the Power of Advertising
On the other hand, incorporating environmental viewpoints into the advertising business has become increasingly important. Against such backdrop, in 2009 Dentsu established a new category in its "Dentsu Advertising Awards", "Award for Environment Advertising."
The Dentsu Advertising Awards, established in 1974 for the purpose of raising the social and cultural standards of the advertising industry, has the longest history of advertising awards in Japan. At the beginning, awards were only given for newspaper ads, but in time the number of categories increased one after another as various media were rapidly developed. Now, the award has 41 sections under 8 categories, viz., newspaper, magazine, poster, radio, television, sales promotion, the internet and direct advertising. Although numerous advertising awards exist around the world, we expect that few award programs match the Dentsu Award's broad coverage of advertising media. In this respect, too, this award program is highly regarded as a comprehensive advertising award representing Japan's advertising industry.
The winner of the first Environmental Advertising Award was an advertising campaign by Toshiba Corporation, one of Japan's major general electric appliance manufacturers, to announce its decision to discontinue manufacturing general-use incandescent bulbs. This campaign publicized Toshiba's decision to cease production of and abolish all its production lines for general-use incandescent bulbs. These production lines had been in operation for 120 years, and incandescent bulbs were one of the products that originally launched the company into business. These ads were also regarded as contributing to the expansion of LED (light emitting diode) market since they successfully encouraged people to anticipate the spread of LED light bulbs, which are expected to reduce CO2 emissions in comparison with incandescent light bulbs.
Toshiba commented that the award helped it rediscover the importance of environmental communications. It appears that having an award category for Environmental Advertising helps drive the movement toward solving environmental problems through "communications."
"Connecting our clients to consumers through various media -- that is the strength of Dentsu," says Reo Watanabe, Senior Manager, Dentsu Innovation Institute. "By utilizing our unique position cleverly and supporting companies' branding activities, we can suggest to consumers options that are better for the environment and society. I think that is the true social contribution that can be made by an advertising agency."
With media, including the internet, being diversified, the amount of information about environmental issues is drastically increasing. That is why the "connecting" role of Dentsu is becoming bigger and bigger. Dentsu is expected to foster momentum toward creating a sustainable society by maximizing the power of communication.

Written by Kazuko Kojima