JFS Newsletter No.91 (March 2010)
"Towards a Sustainable Japan -- Corporations at Work" (No. 89):
http://www.aise.jp/english/index.html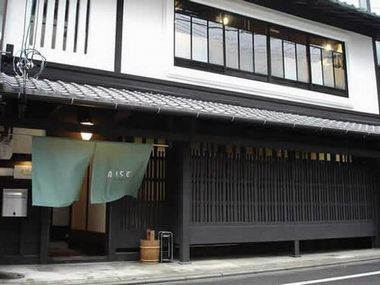 Copyright AMITA Institute for Sustainable Economies Co.

Keys to Rural Revitalization -- Resources, Communities and People
Amita Group has been developing business solutions for creating a sustainable society in various fields such as agriculture, forestry, fisheries, energy, food, environmental protection through recycling and local community service. In January 2010, the group made a new start by adopting a financial holding company system and establishing Amita Holdings Co.
http://www.amita-net.co.jp/english.html
AMITA Institute for Sustainable Economies (AISE), a member company of Amita Group, specifically focuses on business services providing environmental solutions to the group's core businesses, such as creating business ideas and providing consulting services to revitalize local communities and primary and related industries, drawing up proposals on corporate environmental risks and supporting environmental risk-related communication between its clients and consumers: They also support clients' environmental and corporate social responsibility (CSR) activities.
Amita Group's basic business concept is "to find new value in resources that used to be regarded as worthless." This idea originated from Amita's start as a material recycling business, which discovered that wastes from manufacturing plants formerly regarded as worthless and discarded could contain valuable commodities, such as zinc.
AISE's mission is "to enhance both natural capital, such as forests, villages and the sea, and social capital, such as trust and healthy relationships among people, and to create better interaction between humans and nature by shifting from vicious to virtuous cycles." Adding to this, "Our constant consideration is how to create new relationships and find new value in things that haven't yet been fully utilized," says Shinichi Karakama, President & CEO of AISE. It is not only in materials that AISE is trying to find new value; it also tries to find intrinsic value in rural natural environments that local people haven't really utilized as well as in applicable urban technologies and ideas that people in rural situations would not normally develop independently, aiming to make good use of such technology and ideas for regional revitalization.

Kyoto -- a Place in Harmony with both Functionality and Concepts
AISE was established in Kyoto City, Kyoto Prefecture in 2005. The institute's spokesperson at its Corporate Design Office Saori Kamata recalls, "We thought that Kyoto would be the most fitting place for our work on community and environment." Kyoto was the venue of the Third Session of the Conference of the Parties to the United Nations Framework Convention on Climate Change (COP3) in 1997. This conference was famous for its result, known as the Kyoto Protocol. This was one reason why AISE thought Kyoto would be the most appropriate place to work in the environmental field. For their office, they renovated a traditional wooden "Kyoto machiya" style townhouse typical of Kyoto.
AISE office with "Kyoto machiya" style
http://www.aise.jp/company/office.html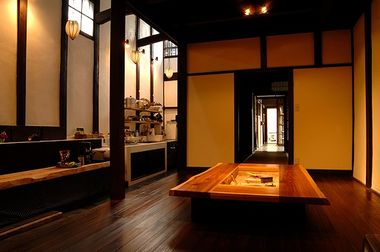 Copyright AMITA Institute for Sustainable Economies Co.

While Amita Group, like many other companies, needs a head office in Tokyo because many of the companies they work with have their environment department at their Tokyo headquarters, it is also very meaningful for AISE to have an office in Kyoto. According to Karakama, "Consultants need to be familiar with the local areas they deal with in order to give advice on revitalization. Sometimes we have gatherings and talk over drinks with local people in order to deliver proposals based on a deeper understanding of the situation at the targeted areas. Our Kyoto office has an irori (a Japanese traditional sunken hearth for heating and cooking) that facilitates open discussions with local people."
AISE not only proposes regional revitalization plans as a think tank, but also actually joins in projects that aim to achieve the goals as a "do tank." Its Kyoto office embodies this concept, while serving as a place to get together.
Karakama emphasizes that the most important thing to be gained from face-to-face communication about revitalization plans is a thorough discussion of the consensus building process for the plan with community people in order to avoid imposing the company's ideas and thus causing future troubles.
In this way, AISE's regional revitalization projects are carefully planned step by step and each project becomes a unique reflection of the local situation. A local project successfully implemented at one community will not always work somewhere else. That is why regional revitalization projects are challenging, and fascinating as well.

Branded Rice from Paddies with Rich Biodiversity
One of the projects that AISE has been involved in since its establishment is a rice farming management project in Takashima City, located on the northwestern shore of Lake Biwa in Shiga Prefecture. This project focuses on conserving the rich biodiversity of rice paddies.
Lake Biwa is famous for being the largest lake in Japan. It is also one of the world's oldest lakes, with a history of over four million years, and serves as precious habitat for more than 50 indigenous species, such as crucian carp, catfish and Biwa trout. About 15 percent of the households in Takashima City are engaged in rice farming, and rice paddies cover about 8 percent of the city's land area. The water used in the rice paddies discharges into Lake Biwa, and so eco-conscious rice cultivation is important to conserve the lake environment.
In order to decrease water pollution in Lake Biwa, Shiga Prefecture has been supporting environmentally conscious agriculture under an ordinance that came into force in April 2003, which encourages reductions in the use of agricultural chemicals and chemical fertilizers.
However, when AISE started discussions with the city and local farmers, no good ideas about how to promote the project emerged: In particular, they had difficulty creating a story line for the project to share with local people. One problem was the lack of eye-catching living creatures, what they call "superstars," in Takashima, such as the white storks and Japanese crested ibises that have attracted a great deal of media attention because of their striking appearance and history of being endangered to the point of extinction in the wild.
Taking the stork example, in Hyogo, one of the Shiga's neighboring prefectures, the trial release of artificially bred storks into the wild started in 2005 with the aim of reviving wild populations of white storks, which had become extinct in the wild in Japan. To protect released storks, local people have promoted what they call "white stork friendly farming methods" to increase aquatic organisms that storks feed on, through pesticide-free farming, reduced use of other agricultural chemicals, and development of small waterways for fish in rice paddies. The rice cultivated there has become a brand-name product. Another brand-name-rice grown using eco-conscious agriculture is produced in Sado City, Niigata Prefecture, where the restoration of the extinct Japanese crested ibis is being attempted.
MAFF Submits Proposal to Certify Products that Protect Biodiversity
http://www.japanfs.org/en/pages/027181.html
In Takashima, AISE finally came up with a plan to brand the rice cultivated in Takashima's paddies by featuring the many familiar living things that coexist in non-agrichemical treated paddies. They suggested that rich biodiversity could be a big appeal in itself even without superstars like storks.
When the project started, only a few farmers supported the idea, but 5 years later the number of supporters has expanded to more than 30. Many young farmers in their 20s to 30s who are expected to be the future of farming are also participating to the project. The city of Takashima is the only municipality in Shiga Prefecture that has been selected as a model organic farming town by Japan's Ministry of Agriculture, Forestry and Fisheries (MAFF), and a study group of local farmers promoting the project is playing a major role in the effort. A 2-kilogram bag of rice produced by the study group without using pesticides or chemical fertilizers is sold for 1450 yen (about U.S.$15.7) with the brand name "Takashima Ikimono Tambomai" ("Takashima Living Paddies Rice"). This price is slightly higher than the price of ordinary rice sold at local supermarkets, but its reputation has been gaining ground, starting in the Kansai district around Osaka where sales were launched, spreading further to the Kanto district around Tokyo.
Takashima Ikimono Tambomai--Rice Brand from Rice Paddies with Rich Biodiversity
http://ikimonotanbo.jp/ (Japanese)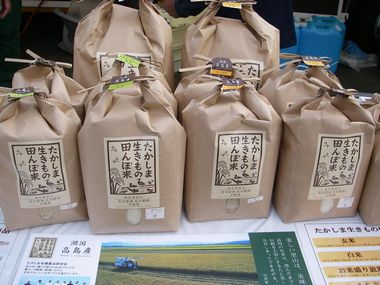 Copyright AMITA Institute for Sustainable Economies Co.

"Local residents are often unaware of their own resources. We can build a consensus to utilize such resources locally by showing them new perspectives visible to a broader point of view. I don't think there is any one multi-purpose approach to utilizing local resources that can be applied everywhere," says Karakama.

"Look for the Strengths of Rural Towns - They Still Have a Lot of Potential"
Most of the rural areas in Japan that rely on farming and fishing share the problem of losing people, particularly young people, to urban areas. Meanwhile, many young people living in cities are becoming interested in getting jobs in agriculture, forestry and fisheries, or in settling down in rural areas. Urban residents moving to rural areas can potentially stimulate the local community, but a coordinator is needed to make the most of both the human and natural resources -- urban people simply moving in does not usually stimulate a mutual impact.
In order to utilize human resources from urban areas to stimulate rural areas, since fiscal 2008 MAFF has been conducting a model project calling for workers in rural areas by supporting organizations that foster human resources or work in the field of coordination. In this context, AISE established a project to help empower rural areas together with the eight other organizations involved in the Ministry's project.
Karakama says, "The participating groups have advantages or expertise in various fields such as green tourism, agriculture and forestry. AISE's strength is its wide experience ranging across many fields, including agriculture, forestry and fisheries as well as in commerce and industry, which contribute to its knowledge and know-how for maximizing its ability as a 'Do Tank.'"
Until three years ago, Karakama was working for a commercial bank to provide loans to applicants with environmentally conscious plans. After the launch of AISE, he visited many local towns through his work and found that the information he had so far received was rather one-sided. He says, "Rural areas had a lot more energy than I had heard. Their living situation is not so bad. The emergence of depopulation, aging populations in rural areas and declines in self-sufficiency rates are causing a sense of crisis about our nation, but in reality rural areas still have the power to move forward."
To help revitalize rural areas, it is important to know the specifics of the area, find new value in what is regarded as worthless, and bring potential value into use by arranging new relationships. The effort by AISE will expand, involving more people nationwide in their work.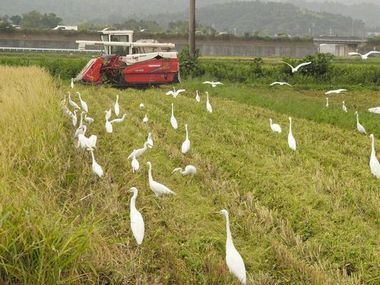 Copyright AMITA Institute for Sustainable Economies Co.

Written by Yuko Kishikami
See also: "Designing a Resource Recycling Societ" (Amita Corporation)
http://www.japanfs.org/en/mailmagazine/newsletter/pages/027866.html