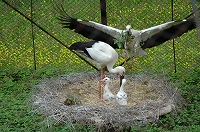 Copyright Hyogo Prefectural Homeland for the Oriental White Stork
An attempt to return White storks (Ciconia ciconia) to the wild has been made by the Hyogo Prefectural Homeland for the White Stork in Toyooka City, Hyogo Prefecture. This species has been extinct in the wild since 1971. Storks bred and raised at this facility were released in September 2005. It was the first time in 34 years that storks hatched in Japan were released into the sky, and was the world's first attempt to re-introduce this species.
This stork has a wing span of about two meters, is found mostly in the Far East and was seen in many parts of Japan until around 1930. However, its numbers decreased gradually due to environmental destruction and pesticide poisoning. When the last wild stork died in 1971, the species became extinct in the wild.
Hyogo Prefecture and Toyooka City took the initiative by starting an artificial breeding program in 1965 and succeeded in breeding the first stork in 1989. More than 100 storks are presently kept at the facility. The prefecture and the city plan to analyze the behavior in the wild of the released birds and identify the possible risks attending their release over next five years.
The next challenge is how to improve the natural environment so that the storks can feed and live safely in the wild. Through cooperation with the surrounding communities, the prefecture and the city have begun to promote pesticide-free rice paddies and reduced use of agricultural chemicals. They also plan to make more waterways for fish that will connect rice paddies with rivers.
- Creating a Homeland for Storks: Species Protection Activities in Hyogo
http://www.japanfs.org/en/mailmagazine/newsletter/pages/027810.html
Posted: 2006/02/15 12:14:40 PM
Japanese version